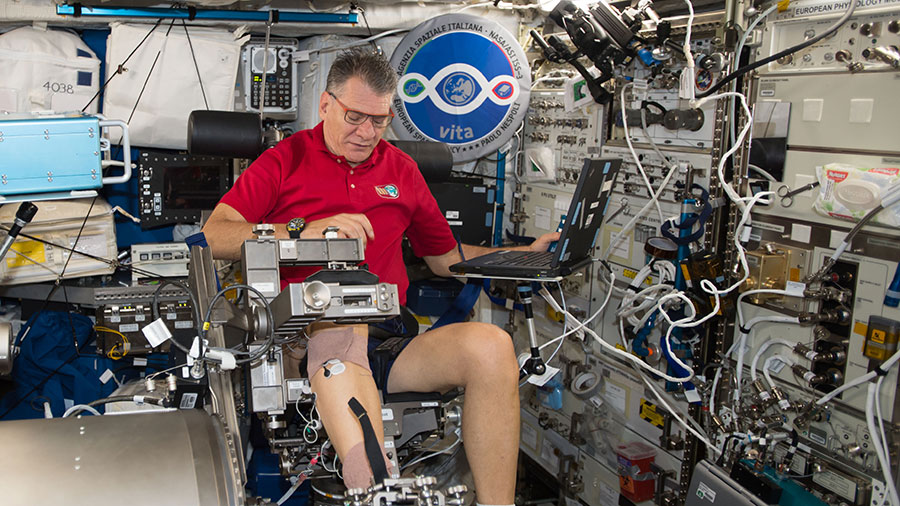 The fully staffed International Space Station stepped up its life science research today studying a host of space phenomena. Two cosmonauts are also preparing for the 202nd spacewalk at the station late next week.
Astronauts Randy Bresnik and Paolo Nespoli continued observing how living in space affects their muscles. The duo used electrodes and an ultrasound device to measure leg muscle performance during an exercise session.
Flight Engineers Peggy Whitson and Jack Fischer checked out a variety of rodent research gear today. Whitson is getting a biology facility ready for a new experiment to be delivered next week on the SpaceX Dragon. Fischer looked at mice to help researchers determine the effectiveness of a new drug that may slow or reverse muscle and bone loss in space.
The next spacewalk is targeted for Aug. 17. Commander Fyodor Yurchikhin and Flight Engineer Sergey Ryazanskiy are reviewing their external tasks and work areas for a spacewalk expected to last a little over six hours. They'll perform science and maintenance tasks and deploy tiny satellites during their orbital excursion.
---
Get weekly video highlights at: http://jscfeatures.jsc.nasa.gov/videoupdate/