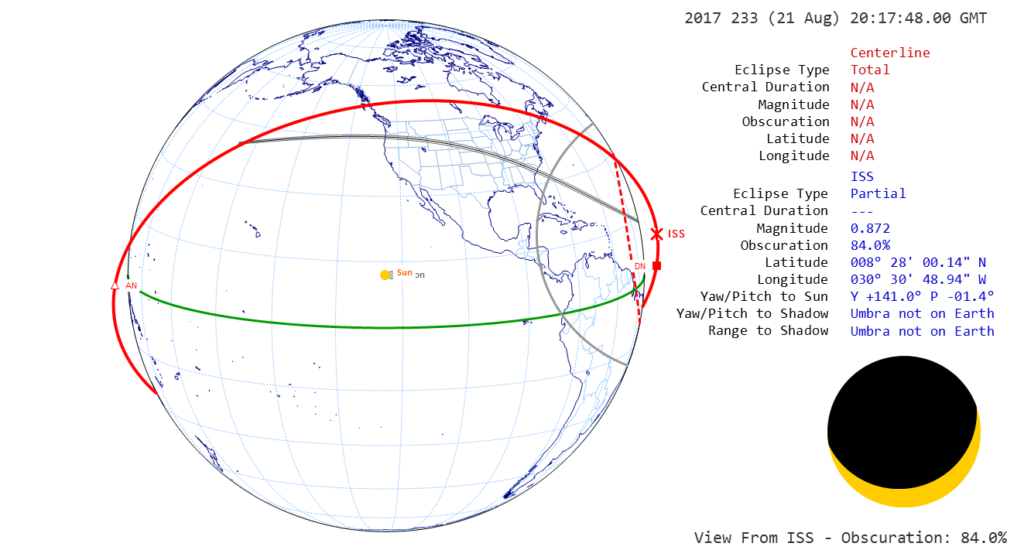 The Expedition 52 crew wrapped up a busy week on Friday with more science work, cargo unloading and cleanup after a Russian spacewalk on Thursday. They are also busy preparing for the 2017 Total Solar Eclipse on Monday with the chance at several unique views of the event.
The crew participated in several studies including Vascular Echo Ultrasound, a Canadian Space Agency investigation that examines changes in blood vessels and the heart while the crew members are in space. They also completed weekly questionnaires for the ESA Space Headaches investigation which collects information that may help in the development of methods to alleviate associated symptoms and improvement in the well-being and performance of crewmembers in space.
Russian cosmonauts Fyodor Yurchikhin and Sergey Ryazanskiy performed cleanup tasks following their Thursday spacewalk which lasted seven hours and 34 minutes. The duo completed a number of tasks including the manual deployment of five nanosatellites from a ladder outside the airlock.
Station crew members will have their cameras outfitted with special filters on Monday for three chances to photograph the solar eclipse from windows aboard the orbiting laboratory. For more information on their opportunities and what they expect to see, visit NASA's Solar Eclipse website.
---
Get weekly video highlights at: http://jscfeatures.jsc.nasa.gov/videoupdate/