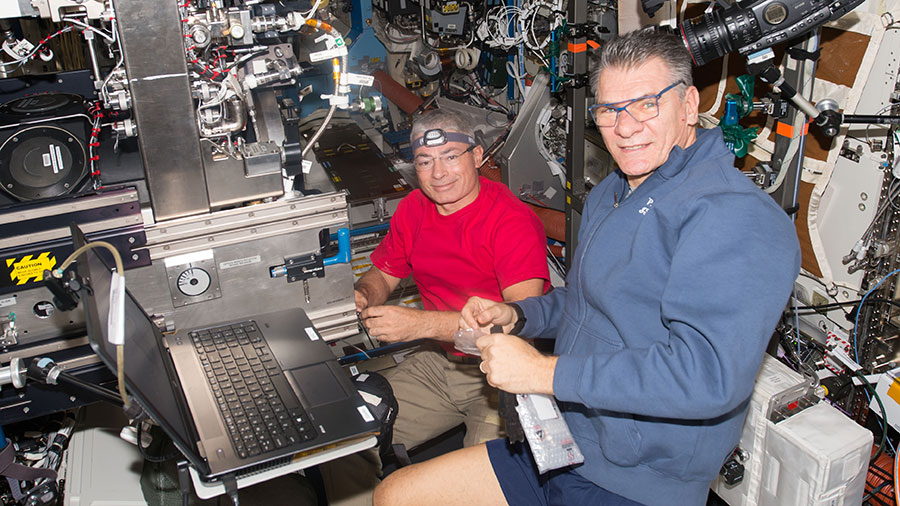 The International Space Station boosted its orbit Wednesday to prepare for the arrival of a pair of Russian spaceships before the end of the year. Meanwhile, the Expedition 53 crew continued getting ready for next week's spacewalk and explored how living in space affects their bodies.
The docked Progress 67 resupply ship fired its engines Wednesday for three minutes and 40 seconds lifting the space station to a higher orbit. The reboost is the first of three with the next two taking place in November. The reboosts will place the station at the correct altitude to receive a Progress 68 resupply ship in mid-October and the Soyuz MS-07 crew ship in mid-December.
Spacewalkers Randy Bresnik and Mark Vande Hei are getting their U.S. spacesuits ready ahead of an Oct. 5 spacewalk. They inspected their suits today, scrubbed the cooling loops and filled them with water. The duo will work outside for about 6.5 hours next Thursday and replace a latching end effector at the tip of the Canadarm2.
NASA astronaut Joe Acaba attached sensors to himself and worked out on the station's exercise bike today to help scientists understand how microgravity affects physical exertion. The VO2max study is researching how astronauts expend energy in space and how it may impact emergency situations and spacewalks.
---
Get weekly video highlights at: http://jscfeatures.jsc.nasa.gov/videoupdate/