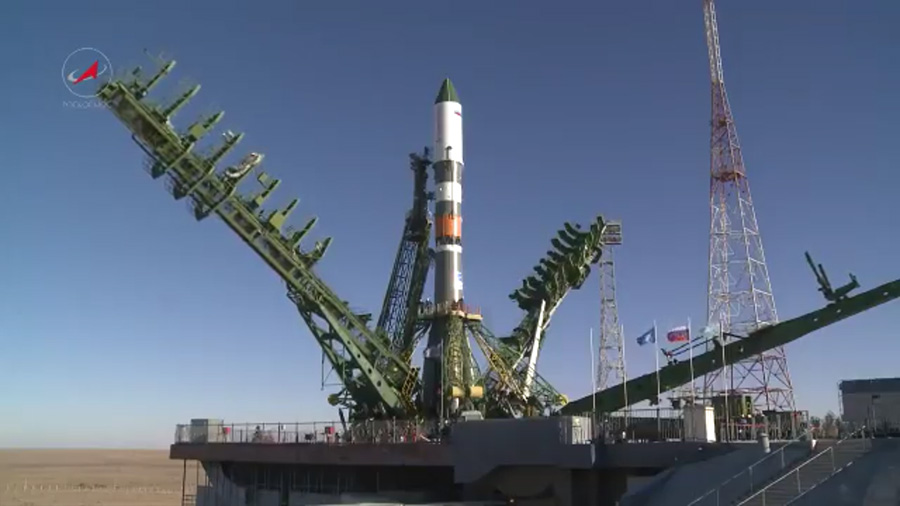 Two astronauts checked in with ground engineers today after completing the second of three spacewalks yesterday that are planned for this month. Meanwhile, a Russian cargo ship stands at its launch pad ready to blast off Thursday morning on a short delivery trip to the International Space Station.
Commander Randy Bresnik and Flight Engineer Mark Vande Hei called down to Mission Control today to discuss the elements of Tuesday's successful spacewalk. During the excursion, they began the lubrication process on the Canadarm2's newly-installed latching end effector and swapped out a degraded video camera. Today, the spacewalkers are servicing their spacesuits' water system and recharging the batteries.
Bresnik will conduct another spacewalk Oct. 18 with NASA astronaut Joe Acaba to finalize the servicing on the Canadarm2 robotic arm. The duo will also perform some electrical maintenance work and replace another degraded video camera. NASA TV will broadcast the third and final spacewalk on Oct. 18 beginning at 6:30 a.m.
Three tons of food, fuel and supplies are loaded inside a Russian resupply ship (ISS Progress 68) ready to lift off to the orbital complex Thursday at 5:32 a.m. The 68P will take just two orbits around Earth and dock to the station less than three-and-a-half hours later. This will be the shortest delivery mission for a Progress mission which usually takes a near six-hour trip, and in the past has taken up to two days to assist in the resupply of the complex.