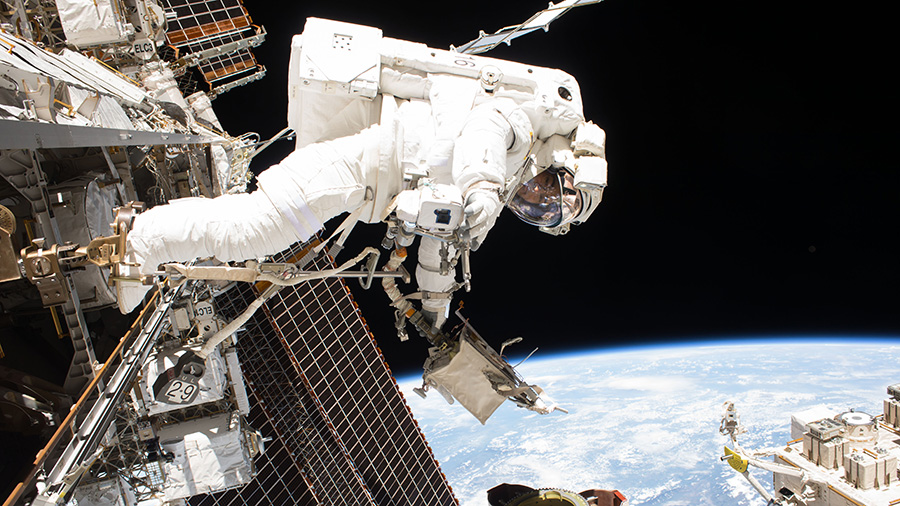 Roscosmos has rescheduled the launch of the Russian Progress 68 cargo spacecraft for Saturday, Oct. 14 at 4:46 am EDT (2:46 p.m. local time in Baikonur). The spacecraft is carrying almost three tons of food, fuel and supplies for the Expedition 53 crew aboard the International Space Station.
Launch coverage on NASA TV will begin at 4:15 a.m. Following a 34-orbit, two-day trip, Progress will arrive at the Pirs docking compartment of the International Space Station for docking on Monday, Oct. 16, at 7:09 a.m., with NASA TV coverage beginning at 6:15 a.m.
In addition, NASA has rescheduled the Expedition 53 crew's third and final spacewalk in the current series to next Friday, Oct. 20. Expedition 53 Commander Randy Bresnik and Flight Engineer Joe Acaba will begin the spacewalk at approximately 8:05 a.m., and NASA TV coverage will begin at 6:30 a.m.
The tasks for the crew members to conduct have been adjusted. Bresnik and Acaba will replace a fuse on Dextre's enhanced orbital replacement unit temporary platform; install an enhanced HD camera on the Starboard 1 lower outboard truss; remove thermal insulation on two spare units to prepare those components for future robotic replacement work, if required; and replace a light on the Canadarm2's new latching end effector installed during the first spacewalk Oct. 5. The final lubrication of the new end effector and the replacement of a camera system on the Destiny Lab will be deferred for a future spacewalk.
To join the conversation about the space station activities online, follow @space_station on Twitter.