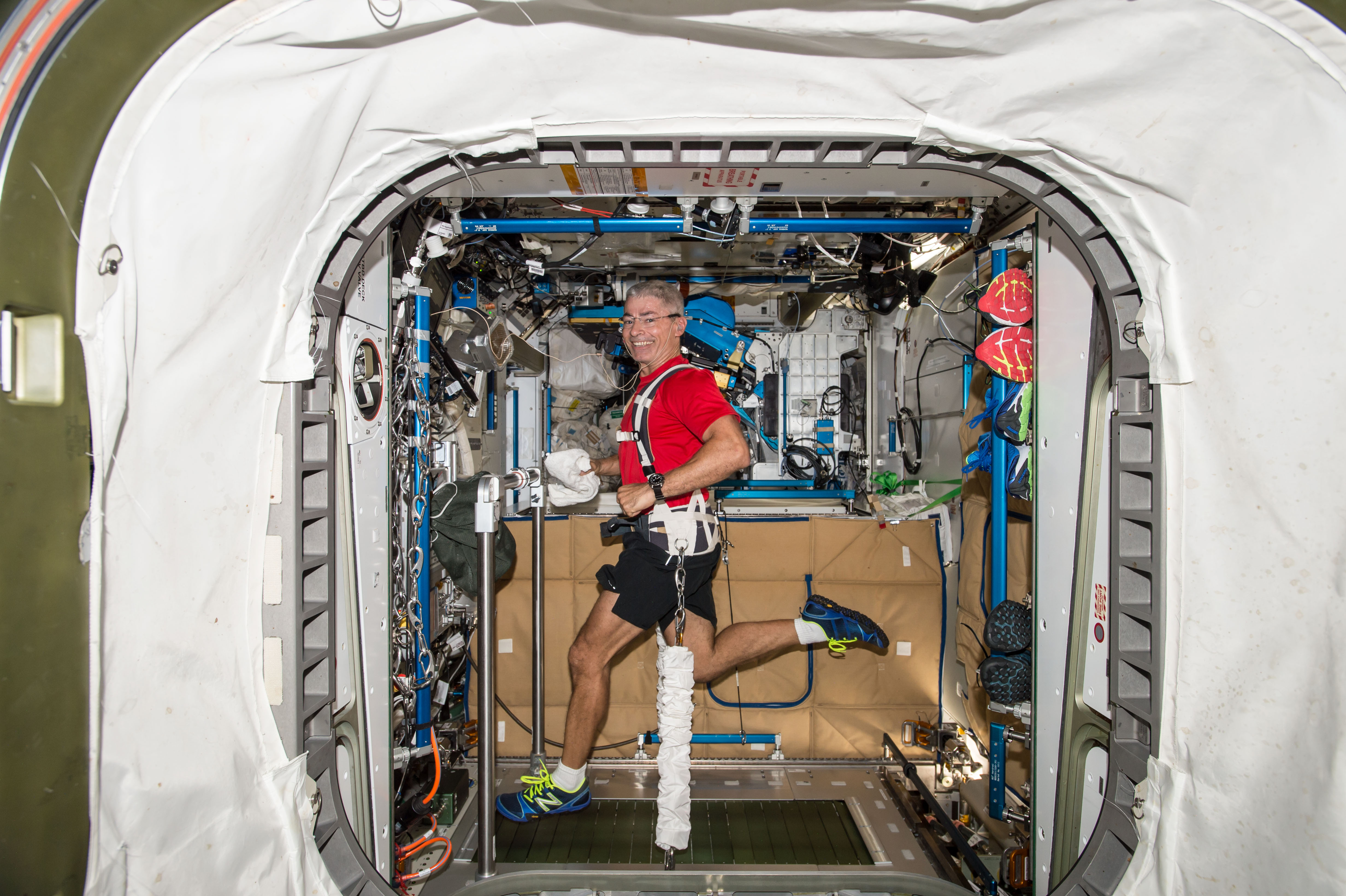 When you're on top of the world—or orbiting it—there's no better place to be. NASA astronauts aboard the International Space Station (ISS) had a late night yesterday, staying up to watch a special uplink from Mission Control: Game 7 of the World Series. The winning outcome was cause for celebration, as the Astros have many fans at NASA's Johnson Space Center in Houston, which is home base for the astronauts.
Today, the crew worked to size up the exercise equipment they rely on to sustain muscle mass and prevent bone loss while living and working in space. They set up cameras in Node 3 to capture video from multiple angles of the Advanced Resistive Exercise Device (ARED) and Miniature Exercise Device (MED-2) hardware, applied body markers, performed exercises and transferred the video for delivery to Mission Control. Aboard ISS, the exercise equipment is large and bulky, which is OK because the orbiting laboratory is about the size of a three-bedroom house. But, for Mars or other destinations beyond low-Earth orbit, available space will be difficult to come by. MED-2 aims to demonstrate that small robotic actuators can provide the same quality motion and resistance for crew workout sessions, thus reducing the size and weight of exercise devices for space missions farther out and lengthier in duration. Evaluating MED-2's game-changing technology is crucial to the design and development of second- and third-generation hardware that is much lighter, smaller and more reliable than what is used now.
An Expedition 53 crew member read "Notable Notebooks Scientists and Their Writings Read" on camera for Story Time from Space. These recordings are downlinked and then used in schools, combining science literacy with simple concept experiments that children can follow along with on the ground. The videos are posted in a library with accompanying educational materials, further promoting science, technology, engineering and math to budding scientists, engineers and explorers.
The station's altitude was raised last night during a three minute, 26-second firing of the ISS Progress 67 thrusters. The reboost of the complex was the first of two such maneuvers this month to set up the correct trajectory for the landing of the Expedition 53 crew on Dec. 14 in south central Kazakhstan and the launch, three days later, of the Expedition 54-55 crew from the Baikonur Cosmodrome in Kazakhstan.