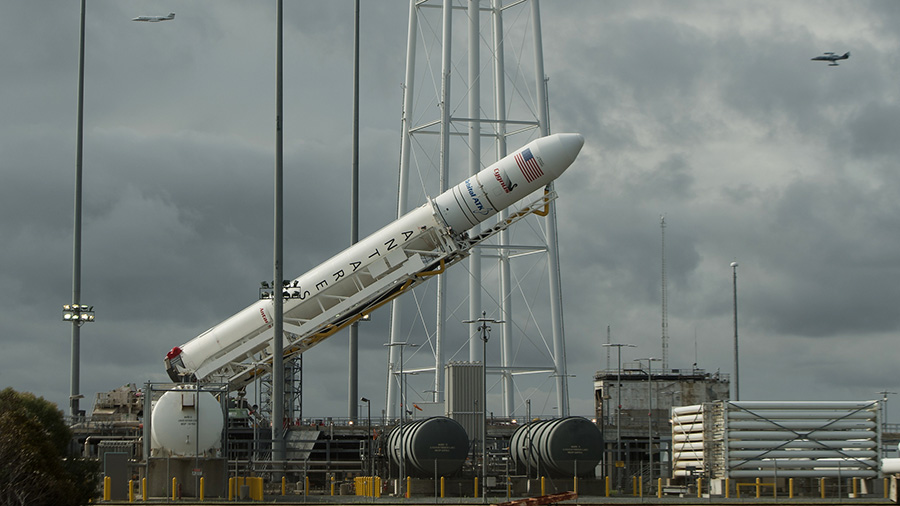 The Expedition 53 crew is working out on a new exercise device today and testing new lights for their impact on health. Back on Earth, a new resupply rocket stands at its launch pad ready for a Saturday launch to the International Space Station.
Astronauts Joe Acaba and Mark Vande Hei worked out on the new Mini-Exercise Device-2 (MED-2) this morning performing dead lifts and rowing exercises. The duo tested its ability to provide reliable, effective workouts despite its smaller size to increase the habitability of a spacecraft.
Vande Hei is also analyzing the station's new solid-state light-emitting diodes that are replacing older fluorescent lights. He conducted a series of tests throughout the day to determine how they impact crew sleep patterns and cognitive performance.
The Orbital ATK Cygnus cargo craft is encapsulated inside the Antares rocket and now stands vertical at the launch pad at Wallops Flight Facility in Virginia. Cygnus is due to launch Saturday at 7:37 a.m. EDT with about 7,400 pounds of new science experiments and fresh supplies for the Expedition 53 crew.
Cygnus will unfurl its cymbal-like UltraFlex solar arrays less than two hours after launch as it begins a two-day trip to the International Space Station. Astronaut Paolo Nespoli will command the Canadarm2 from the Cupola to grapple Cygnus when it arrives Monday morning at 5:40 a.m. Commander Randy Bresnik will back up Nespoli and monitor the approach and rendezvous.