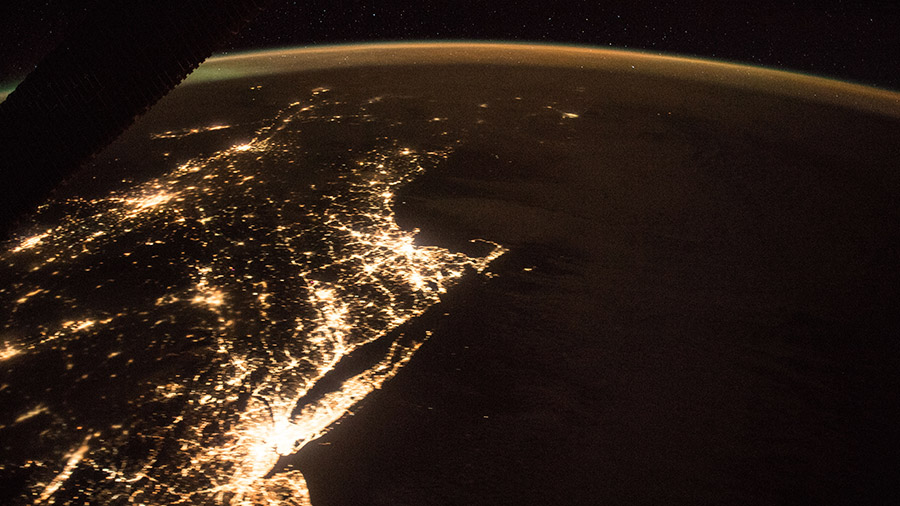 The Expedition 53 crew is configuring the orbital complex for a pair of cargo missions and a crew swap in December. Two colorful soccer ball-sized satellites were also floating around inside the International Space Station being tested today.
SpaceX has announced it is now targeting Dec. 8 for the launch of its Dragon cargo craft to the space station's Harmony module. Among the variety of crew supplies and research gear Dragon will deliver are mice to be observed for the Rodent Research-6 muscle drug study. 20 mice will be housed in a rodent habitat that Vande Hei is configuring today in the U.S. Destiny laboratory.
Orbital ATK pushed back the release of its Cygnus resupply ship from the Unity module to Dec. 6 after the SpaceX announcement. Flight Engineers Joe Acaba and Mark Vande Hei are preparing for the departure this week loading Cygnus with trash and training for its robotic release.
Finally, the station is set to slightly raise its orbit Wednesday enabling a crew swap set to begin Dec. 14 when Expedition 52-53 crew members Randy Bresnik, Sergey Ryazanskiy and Paolo Nespoli return to Earth. They will be replaced Dec. 19 when Expedition 54-55 crew members Anton Shkaplerov, Scott Tingle and Norishige Kanai dock to the Rassvet module two days after their launch from Kazakhstan.
Acaba and cosmonaut Alexander Misurkin were inside the Kibo laboratory module today testing a pair of tiny satellites better known as SPHERES (Synchronized Position Hold, Engage, Reorient, Experimental Satellites). The SPHERES can be pre-programmed on Earth using algorithms to conduct a series of maneuvers demonstrating formation flying or rendezvous and docking techniques. Teams of high school students will be competing in January to see who can design the best maneuvering algorithms for the SPHERES on the station.