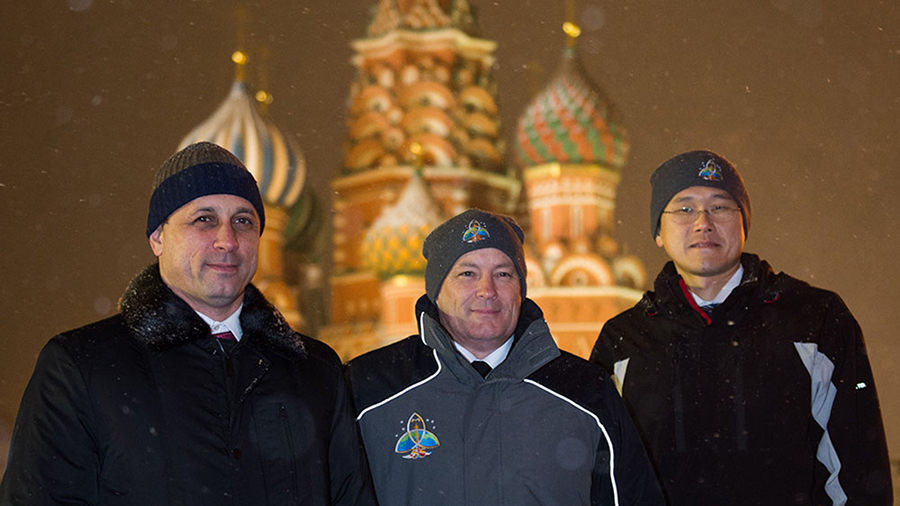 A pair of commercial resupply missions are coming and going this week at the International Space Station. Meanwhile, a new crew has arrived at its launch site to prepare for a Dec. 17 liftoff to the orbital laboratory. All missions to and from the station this month will be televised live on NASA TV.
NASA astronauts Mark Vande Hei and Joe Acaba are brushing up on their robotics skills today ahead of this week's release of the Orbital ATK Cygnus resupply ship. Ground controllers will remotely command the Canadarm2 on Tuesday to detach Cygnus from the Unity module. While still attached to the Canadarm2, Cygnus will be used for a series of communications tests to assist NASA's Commercial Crew Program. Then on Wednesday, the two astronauts will be in the cupola commanding the Canadarm2 to release Cygnus into Earth orbit at 8:10 a.m. EST.
Just two days later on Friday, the SpaceX Dragon will launch at 1:20 p.m. from the Kennedy Space Center where it will begin a two-day trip to the space station. Flight Engineer Paolo Nespoli is cleaning up a pair of modules today to make way for the nearly 4,800 pounds of crew supplies and research gear Dragon is delivering to the station. Dragon is due to arrive Sunday at 6 a.m. when it will be captured by Vande Hei and Acaba once again operating the Canadarm2.
Three Expedition 53 crew members are due to return to Earth Dec. 14 after 139 days in space. Nespoli, Expedition 53 Commander Randy Bresnik and Soyuz Commander Sergey Ryazanskiy will parachute to a landing in Kazakhstan aboard the Soyuz MS-05 spaceship.
The homebound trio will be replaced shortly after that when the Expedition 54-55 crew launches Dec. 17 for a two-day ride to its new home in space. Veteran cosmonaut Anton Shkaplerov will blast off with two first-time astronauts Scott Tingle of NASA and Norishige Kanai of the Japan Aerospace Exploration Agency to begin a four-month tour on the orbital laboratory. The crew has arrived at the Baikonur Cosmodrome in Kazakhstan and is in final launch preparations.