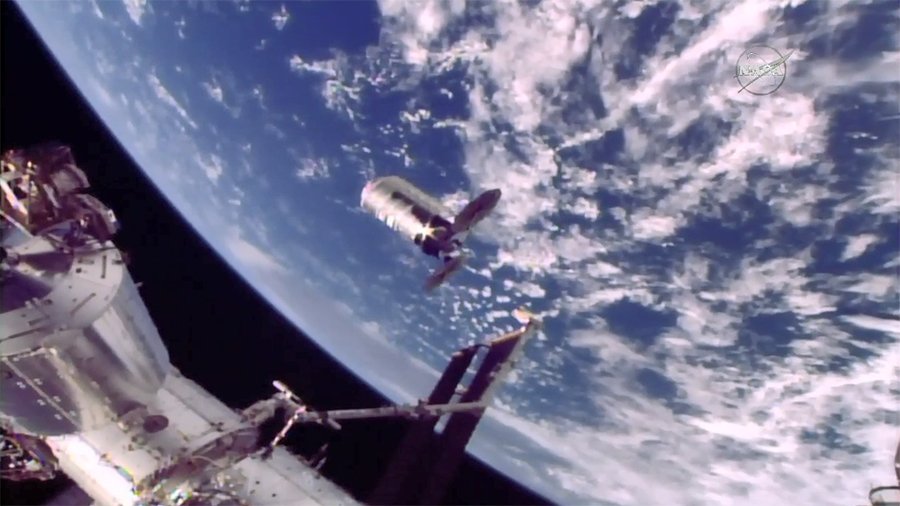 After delivering almost 7,400 pounds of cargo to support dozens of science experiments from around the world, the Orbital ATK Cygnus cargo spacecraft has departed the International Space Station. At 8:11 a.m., Expedition 53 Flight Engineers Mark Vande Hei and Joe Acaba of NASA gave the command to release Cygnus.
On Tuesday, Dec. 5, ground controllers used the Canadarm2 robotic arm to detach the Cygnus spacecraft from the Earth-facing side of the station's Unity module. The spacecraft, which arrived at the station Nov. 14, then maneuvered above the Harmony module to gather data overnight that will aid in rendezvous and docking operations for future U.S. commercial crew vehicles arriving for a linkup to Harmony's international docking adapters.
Experiments delivered on Cygnus supported NASA and other research investigations during Expedition 53, including studies in biology, biotechnology, physical science and Earth science.
Later today, Cygnus will release 14 CubeSats from an external NanoRacks deployer. Cygnus also is packed with more than 6,200 pounds of trash and other items marked for disposal during its destructive reentry Monday, Dec. 18.
The Cygnus launched Nov. 12 on Orbital ATK's upgraded Antares 230 rocket from NASA's Wallops Flight Facility in Virginia for the company's eighth NASA-contracted commercial resupply mission.
For more information about the International Space Station, visit www.nasa.gov/station.