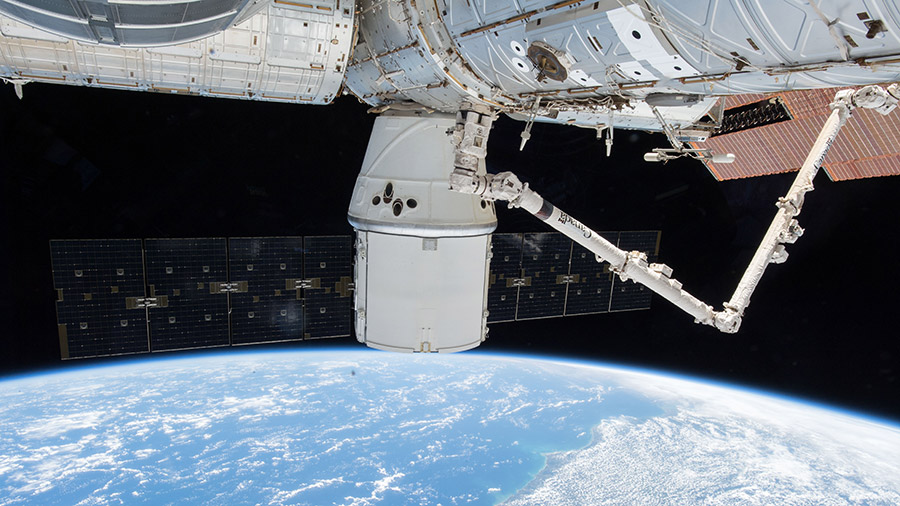 Robotics controllers are getting ready to uninstall the SpaceX Dragon cargo craft from the International Space Station on Friday before releasing it for a splashdown in the Pacific Ocean Saturday. The Expedition 54 crew today is also continuing to study how living in space affects biology and introducing space travel concepts to students on Earth.
The crew is finishing packing up the Dragon this week and will close the spaceship's hatch Friday and wrap up cargo operations. Houston mission controllers will remotely perform Dragon's release operation for the first time early Saturday. Flight Engineers Joe Acaba and Scott Tingle will be inside the cupola monitoring Dragon's departure.
Dragon will be depart the station Saturday at 5 a.m. EST loaded with science experiments and station cargo and parachute to a splashdown off the coast of California at 10:36 a.m. NASA TV will broadcast live the resupply ship's departure starting Saturday at 4:30 a.m.
Life science continues at full pace aboard the aboard orbital laboratory today. Japanese astronaut Norishige Kanai checked on rodents being treated with a compound that fights muscle loss in microgravity. Tingle took a look at plant samples to observe their genetic and molecular responses to growing in space.
Commander Alexander Misurkin along with Acaba set up a pair of tiny internal satellites, also known as SPHERES, for a dry run today ahead of a competition. Students on Earth are competing to design the best algorithms that will operate the SPHERES to simulate future space operations such as dockings and flying formations.