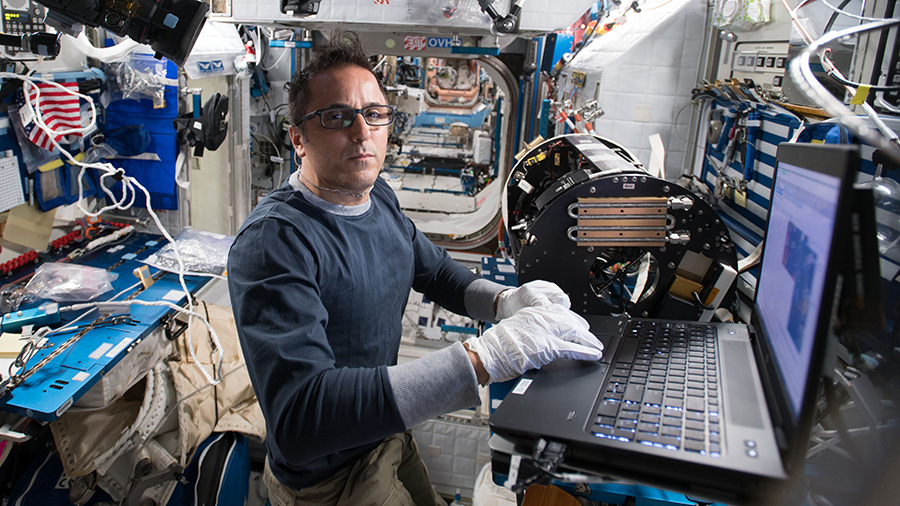 The Expedition 54 crew aboard the International Space Station is training for this weekend's departure of the SpaceX Dragon commercial cargo craft. The crew is also exploring regenerative life support systems and how microgravity affects breathing.
NASA astronauts Joe Acaba and Scott Tingle began their day training and reviewing for Saturday's remotely controlled release of the Dragon resupply ship at 5 a.m. The duo took onboard computer training and discussed this weekend's activities with engineers at Mission Control.
This is the first time robotics controllers will command the release of Dragon from the ground while Acaba and Tingle monitor from the cupola as backups. NASA TV will broadcast live the resupply ship's departure starting Saturday at 4:30 a.m. Splashdown off the coast of California is expected at 10:36 a.m. and will not be televised.
Experimental work also took place today on the orbital laboratory to help NASA learn how to support astronauts on longer missions farther out into space.
Acaba checked bacteria cultures that could be used for carbon dioxide removal and oxygen production supporting future regenerative life support systems. Japanese astronaut Norishige Kanai joined NASA astronaut Mark Vande Hei and measured their breathing rates today, specifically Nitric Oxide turnover in the lungs. Doctors want to minimize the risk of airway inflammation to keep astronauts healthier farther from Earth.