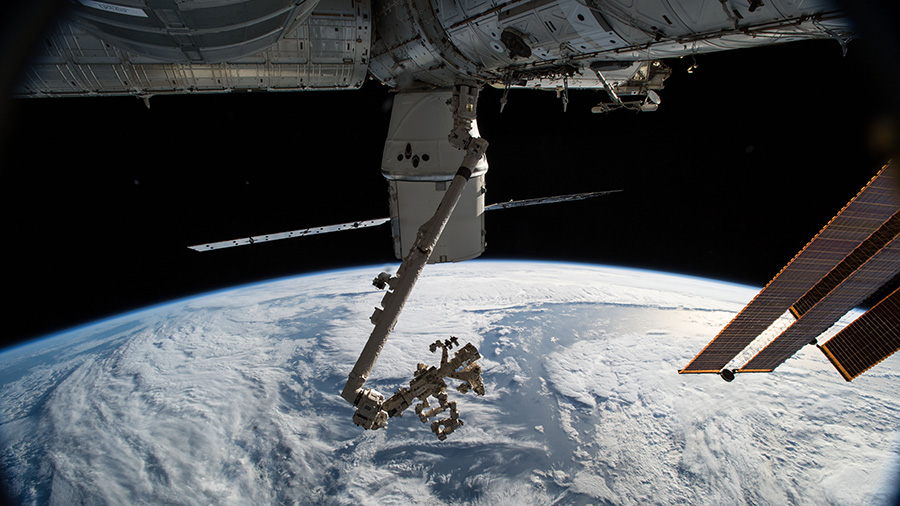 Students on Earth are remotely testing algorithms on a pair of internal satellites as part of a competition aboard the International Space Station today. Meanwhile, the Expedition 54 crew is packing up the SpaceX Dragon cargo craft for its Saturday departure and conducting biomedical operations.
Commander Alexander Misurkin and Flight Engineer Joe Acaba are monitoring tiny satellites known as SPHERES flying inside the Japanese Kibo laboratory module. Students on Earth have uploaded algorithms maneuvering the SPHERES to compete for creating the best designs relevant to future space missions.
NASA astronauts Mark Vande Hei and Scott Tingle are transferring rodents from the station's animal habitat to a transporter aboard the Dragon resupply ship for return and analysis on Earth. The rodents were treated with a compound that fights muscle loss in microgravity and will be compared to a group of mice on Earth.
Japanese astronaut Norishige Kanai concluded a session of the Airways Monitoring experiment stowing the research gear in the U.S. Quest airlock. The study is analyzing exhaled air to maintain astronaut health on long-term space missions. Kanai also collected his biological samples for the Probiotics study looking at the immune system and intestinal microbes living inside space station crew members.