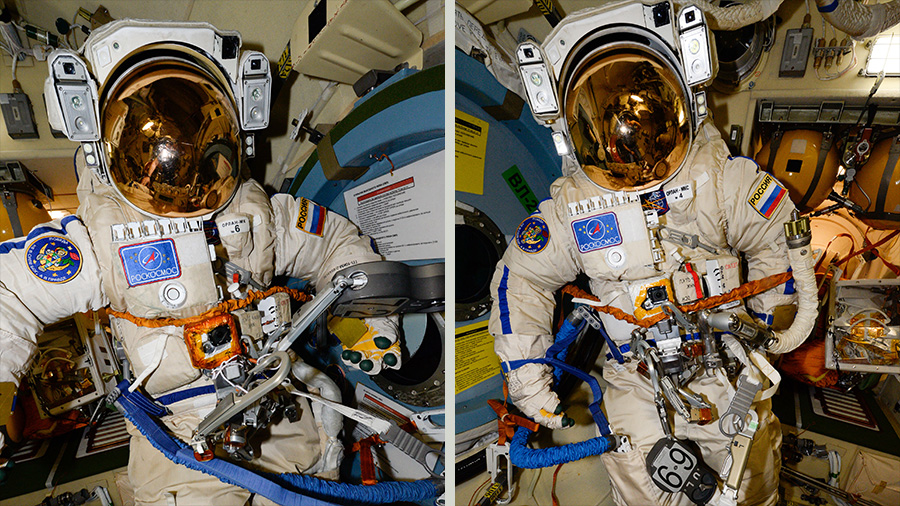 As the International Space Program gets ready for a pair of spacewalks in February, the Expedition 54 crew was busy setting up a pair of experimental internal satellites and conducting vision checks today.
NASA astronauts Joe Acaba and Mark Vande Hei brought out a pair of tiny satellites, also known as SPHERES (Synchronized Position Hold, Engage, Reorient, Experimental Satellites), for a run of the SmoothNAV experiment today. The study is researching how algorithms and sensors may help determine relative positions and velocities between spacecraft.
Both astronauts also joined Flight Engineers Scott Tingle and Norishige Kanai for eye exams during the afternoon. Tingle and Kanai first swapped roles as Crew Medical Officer checking each other's eyes today using optical coherence tomography. Then Tingle joined Acaba and Vande Hei afterward for more eye checks using a fundoscope. Doctors on the ground remotely assisted the astronauts viewing their eyes in real time.
Cosmonauts Alexander Misurkin and Anton Shkaplerov donned their Orlan spacesuits today to ensure a good fit and check for pressure leaks ahead of a spacewalk scheduled to start Friday at 10:30 a.m. EST. They'll work outside for about 6.5 hours of maintenance on the Russian side of the orbital laboratory.
The second spacewalk is set to take place Feb. 15 at 7:10 a.m. when Vande Hei and Kanai exit the station to continue robotics maintenance on the Canadarm2. They'll stow a pair of latching end effectors, or robotic hands, which had been detached from the Canadarm2 on two previous spacewalks, the first on Oct. 5, 2017 and the second on Jan. 23.