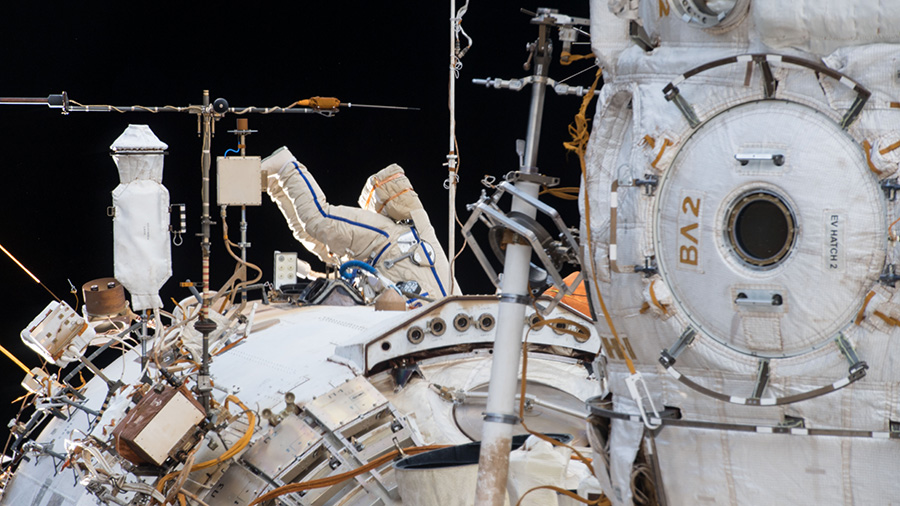 Fresh off a record-breaking spacewalk last week, the International Space Station program is preparing for its first docking of a cargo craft in just two orbits. Back inside the orbital lab, the Expedition 54 crew researched how microgravity affects muscles to help humans on Earth.
Cosmonauts Alexander Misurkin and Anton Shkaplerov wrapped up the longest spacewalk in Russian space program history at eight hours and 13 minutes on Friday. The two station residents worked over the weekend stowing spacewalk tools, cleaning the Pirs airlock and checking their Orlan spacesuits.
The Russian Federal Space Agency is now preparing for the launch Sunday of its unpiloted Progress 69 resupply ship at 3:58 a.m. EST. After its launch from the Baikonur Cosmodrome in Kazakhstan, the cargo craft will take two orbits around the Earth before automatically docking to the aft end of the Zvezda service module.
Astronauts Scott Tingle and Norishige Kanai observed mice on the space station being treated with a drug that may slow or reverse muscle atrophy. The rodents are housed in a special microgravity habitat for up to two months with results of the study helping scientists design therapies for humans with muscle-related ailments.