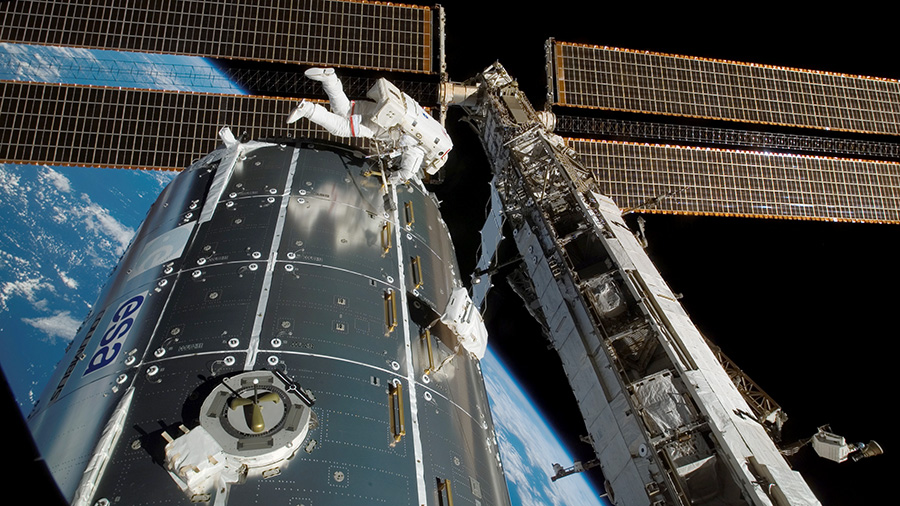 The International Space Station program is getting ready to recognize the 10th year in space of its Columbus lab module from the European Space Agency (ESA). The Expedition 54 crew members, meanwhile, spent the day helping scientists on the ground understand the impacts of living in space.
ESA is getting ready to celebrate the 10th anniversary of the launch of Columbus. The European lab module blasted off inside space shuttle Atlantis on Feb. 7, 2008, for a two-day ride to the station. Canadarm2, the station's robotic arm, removed Columbus from Atlantis's cargo bay two days after its arrival and attached it the starboard side of the Harmony module.
A month after the installation of Columbus, ESA launched its first resupply ship to the station. The "Jules Verne" Automated Transfer Vehicle (ATV-1) lifted off March 9, 2008, atop an Ariane-5 rocket from Kourou, French Guiana. The ATV-1 then took a month-long ride for a series navigation tests before to automatically docking to the station.
Astronauts Scott Tingle and Norishige Kanai continued studying mice on the space station for a drug study to potentially improve muscle health in microgravity and despite a lack of exercise. The rodents are housed in a special microgravity habitat for up to two months with results of the study helping scientists design therapies for humans with muscle-related ailments.
Flight Engineer Mark Vande Hei set up botany gear in the Columbus lab module for the Veggie-3 experiment. The long-running plant study is exploring the feasibility of harvesting edible plants such as cabbage, lettuce and mizuna for consumption during spaceflight. Samples are returned to Earth for analysis.