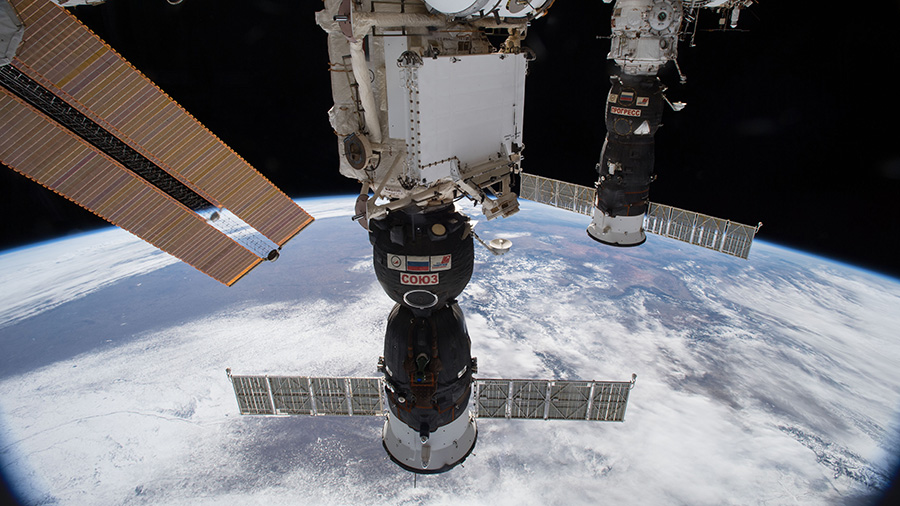 A Russian cargo craft is on its way to the International Space Station early Thursday as two astronauts get ready for a spacewalk on Friday.
The Progress 69 (69P) cargo craft is orbiting Earth today carrying three tons of food, fuel and supplies for the Expedition 54 crew. The 69P is due to complete its delivery when it docks Thursday at 5:43 a.m. EST to the Zvezda service module's rear port. NASA TV will broadcast the rendezvous and docking live starting at 5 a.m.
Commander Alexander Misurkin and Flight Engineer Anton Shkaplerov will be inside Zvezda monitoring tomorrow morning's automated docking of the 69P. The cosmonauts are brushing up on their robotics skills today in the unlikely event they would need to use the station's telerobotically operated rendezvous unit to manually dock the resupply ship.
Astronauts Mark Vande Hei and Norishige Kanai are checking their tools and procedures they will use Friday morning during a planned six-and-a-half hour spacewalk. The spacewalkers will complete the transfer of a pair of older robotic hands, or Latching End Effectors (LEEs), that were once attached to the Canadarm2 robotic arm. One LEE will be transferred inside the Quest airlock while the other will be attached to the mobile base system.
Vande Hei and Kanai are scheduled to set their spacesuit batteries to internal power at 7:10 a.m. signifying the official start of the U.S. spacewalk. NASA TV will start its live coverage of the spacewalk activities beginning at 5:30 a.m.