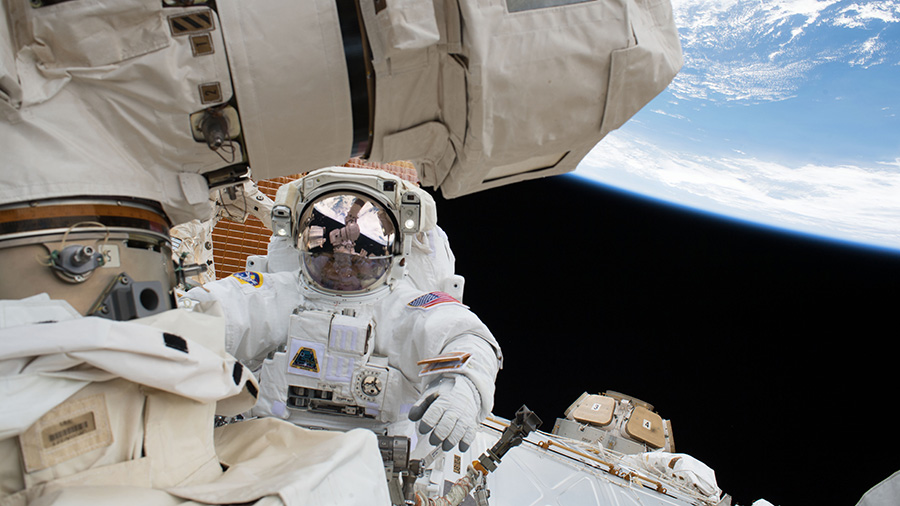 The Expedition 54 crew is getting ready for a spacewalk Friday morning and beginning the work to unload a newly-arrived cargo delivery.
Astronauts Mark Vande Hei and Norishige Kanai are completing their spacewalk reviews and readying their spacesuits and tools ahead of Friday morning's excursion. The duo is scheduled to turn their spacesuits batteries on to internal power at 7:10 a.m. EST signifying the start of a planned six and a half hour spacewalk.
The spacewalkers will complete the transfer of a pair of older robotic hands, or Latching End Effectors (LEEs), that were once attached to the Canadarm2 robotic arm. One LEE will be transferred inside the Quest airlock while the other will be attached to the mobile base system. NASA TV will start its live coverage of the spacewalk activities beginning at 5:30 a.m.
Cosmonauts Alexander Misurkin and Anton Shkaplerov opened the hatch to a new Progress cargo craft that arrived today at 5:38 a.m. The duo will start the work to offload a little over three tons of food, fuel and supplies from the resupply ship that will stay docked to the Zvezda service module until March.