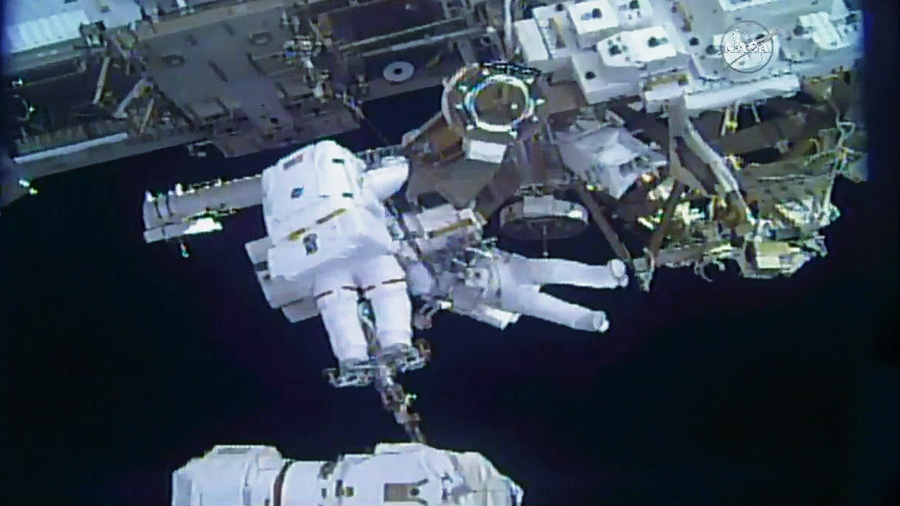 Expedition 54 Flight Engineers Mark Vande Hei of NASA and Norishige Kanai of the Japan Aerospace Exploration Agency have completed a spacewalk lasting 5 hours and 57 minutes.
The two astronauts concluded their spacewalk at 12:57 p.m. EST with the repressurization of the Quest airlock.
The spacewalkers moved two Latching End Effector (LEE), or hands, for the Canadian-built robotic arm, Canadarm2. They moved one to a long-term storage location for future use as a spare part and brought the other inside the space station to be returned to Earth. It will be refurbished and later relaunched to the orbiting laboratory as a spare.
Running well ahead of the timeline, the two spacewalkers also conducted a number of get ahead tasks, including the lubrication of the inside of the LEE installed on the International Space Station's robotic arm during the Jan. 23 spacewalk. They also positioned an interface tool for the Canadian Space Agency's robotic handyman Dextre, installed a grounding strap on a component of the LEE positioned on one end of the robotic arm, and adjusted a strut on a component on one of the station's spare parts platforms. That component is a flex hose rotary coupler that transfers liquid ammonia across a connecting point on the station's backbone to provide cooling for its systems.
It was the 208th spacewalk in support of International Space Station assembly and maintenance, the fourth in Vande Hei's career, and the first for Kanai, who became the fourth Japanese astronaut to walk in space.
Learn more about station activities by following @space_station and @ISS_Research on Twitter as well as the ISS Facebook and ISS Instagram accounts.