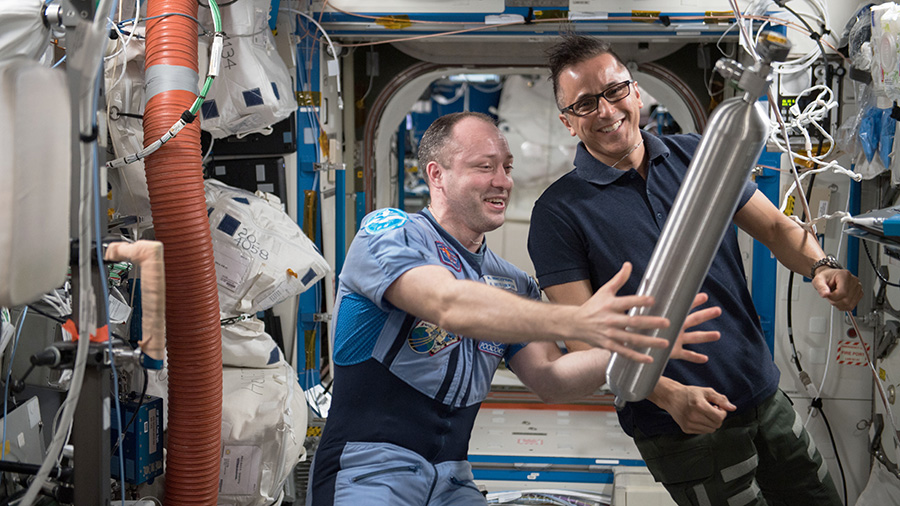 Three Expedition 54 crew mates are in the final week of their mission and are packing up for a return to Earth. They and the rest of the crew also researched botany and biomedical science to support future crews on longer missions further into space.
Commander Alexander Misurkin is readying the Soyuz MS-06 spacecraft that will return him and Flight Engineers Mark Vande Hei and Joe Acaba back to Earth Feb. 27 after 168 days in space. He and Vande Hei trained for next week's descent using a station simulator and reviewed potential return hazards.
Acaba spent his morning stowing botany samples in a science freezer for the Plant Gravity Perception study. That experiment is observing how plants detect gravity and light in the early stages of growth. The home-bound astronaut then spent the afternoon packing personal gear inside the Soyuz MS-06 space ship.
Japanese astronaut Norishige Kanai attached electrodes to his chest area, wore a leg cuff and performed an ultrasound scan today. He worked in conjunction with doctors on the ground for the Vascular Echo study that looks at blood vessels and the human heart and how they change in space and on Earth.
Cosmonaut Anton Shkaplerov continues to unload cargo today from the new Progress 69 resupply ship that arrived last week. NASA astronaut Scott Tingle stowed rodent habitats and worked on combustion science gear.