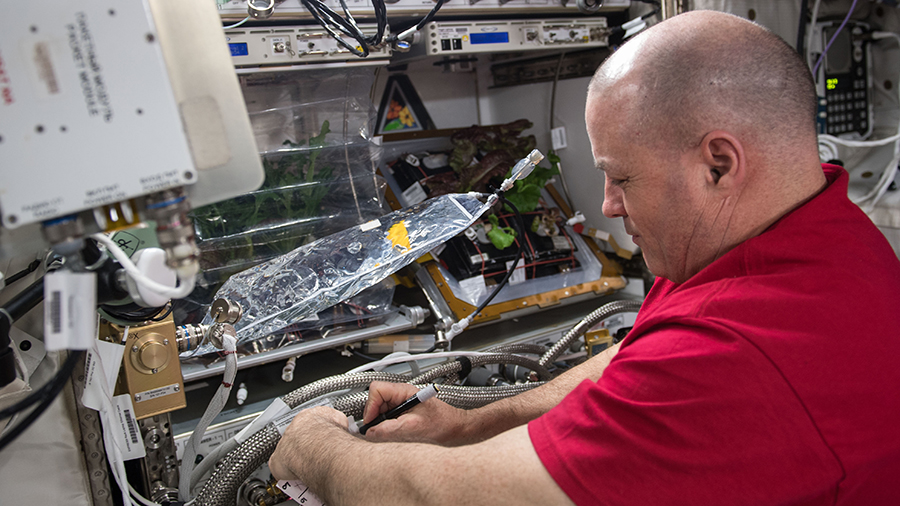 The three orbiting Expedition 55 crew members focused on maintenance of the International Space Station while studying Earth and biomedical sciences today. Meanwhile, a new set of station crewmates are in Kazakhstan for final training before beginning their mission in two weeks.
Commander Anton Shkaplerov once again worked throughout Wednesday on life support maintenance in the Russian segment of the orbital lab. Flight Engineer Scott Tingle worked in the U.S. side of the station installing new lights and performing six-month maintenance on the COLBERT treadmill.
Tingle started his day watering plants and photographing the United States during a coast-to-coast orbital pass today. Japanese astronaut Norishige Kanai completed setting up gear to measure nitric oxide that the crew members exhaled into the station's environment and diffused in an astronaut's blood system.
Back on Earth, the next three individuals to live and work on the space station are counting down to a March 21 liftoff from the Baikonur Cosmodrome. The new Expedition 55-56 crewmates are at their crew quarters at the Cosmonaut Hotel today reviewing their Soyuz MS-08 spacecraft systems and mission procedures. Soyuz Commander Oleg Artemyev will be flanked by NASA Flight Engineers Ricky Arnold and Drew Feustel inside the Soyuz when they dock March 23 to the station's Poisk module.