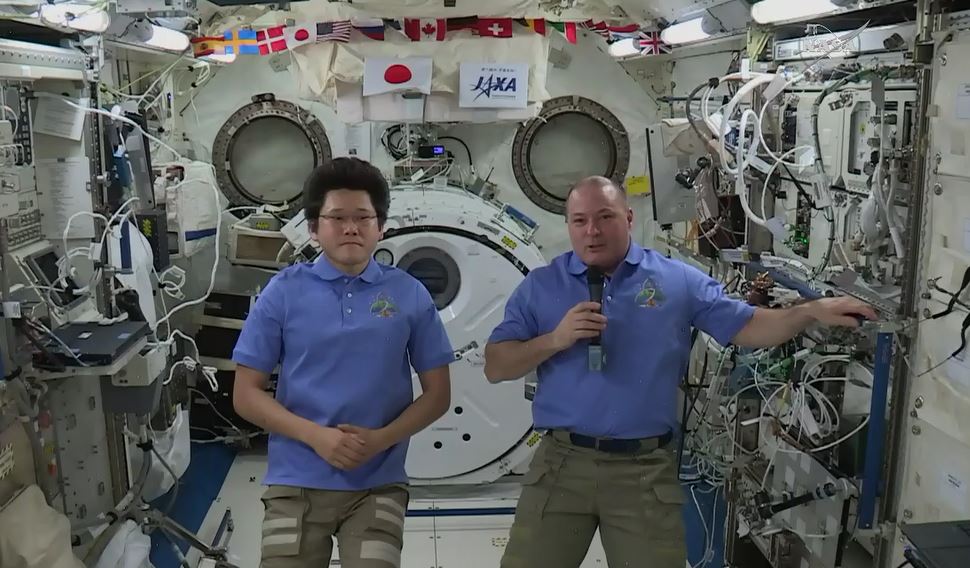 It's a new day in space aboard the International Space Station, and three Expedition 55 crew members are prepping for an upcoming spacewalk and cargo-transfer activities while also sharing the wonders of our orbiting laboratory.
March 29 is the target date of the next U.S. spacewalk. To begin preparations for the excursion, the crew swapped out Extravehicular Mobility Units, or EMUs, and began resizing the suits. Also on the task list: packing up suit parts intended for return to Earth with SpaceX CRS-14.
In addition, the crewmates spent time reconfiguring the European Physiology Module rack for the future installation of ESA's ICE Cubes Facility (ICF). The ICF will provide commercial entities simplified, low-cost access to the space station with individual experiment cubes—small investigations that could make large impacts within the scientific community.
NASA astronaut Scott Tingle and Norishige Kanai from the Japan Aerospace Exploration Agency shared how space station benefits humankind off the Earth, for the Earth, during two in-flight Public Affairs events live on NASA TV. The first interview was with KYW-TV in Philadelphia, while the second was with NPR's 1A Broadcast on WAMU Radio in Washington, D.C.
Later, a reboost is planned using the Progress 69P spacecraft to lift station to the correct altitude for a Soyuz 53S undock and landing early this summer.