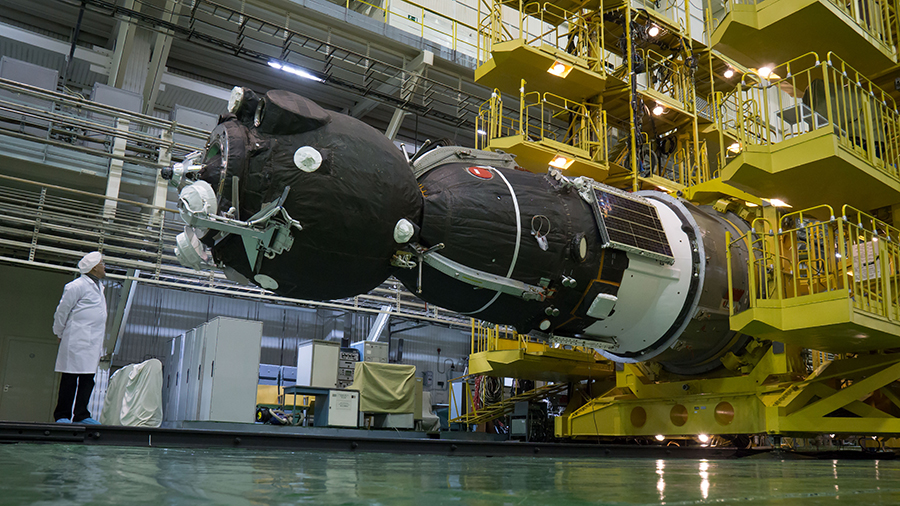 One week from today three individuals will blast off on a two-day trip to the International Space Station. They will join the three Expedition 55 crew members already in space who continue to research the effects of living in space while maintaining the orbital laboratory.
The Soyuz spacecraft that will carry one cosmonaut and two astronauts to their new home in space was encapsulated into its rocket today ahead of its March 21 launch. Soyuz Commander Oleg Artemyev will fly the Soyuz MS-08 spacecraft ferrying him and NASA astronauts Ricky Arnold and Drew Feustel to the station's Poisk module on March 23.
Waiting for the trio are Expedition 55 Commander Anton Shkaplerov and Flight Engineers Scott Tingle and Norishige Kanai. Today, the orbiting crewmates watered plants for a space crop study and scanned their eyes with an ultrasound device for ongoing health checks. They are also getting gear ready for the next spacewalk to conduct maintenance on the orbital lab.
The space station is orbiting a little higher today after a docked Russian cargo craft fired its engines for 1 minute and 48 seconds. The burn increased the lab's altitude enabling future spacecraft operations including the undocking of the Expedition 54-55 trio in June and the docking of a new Russian space freighter in July.