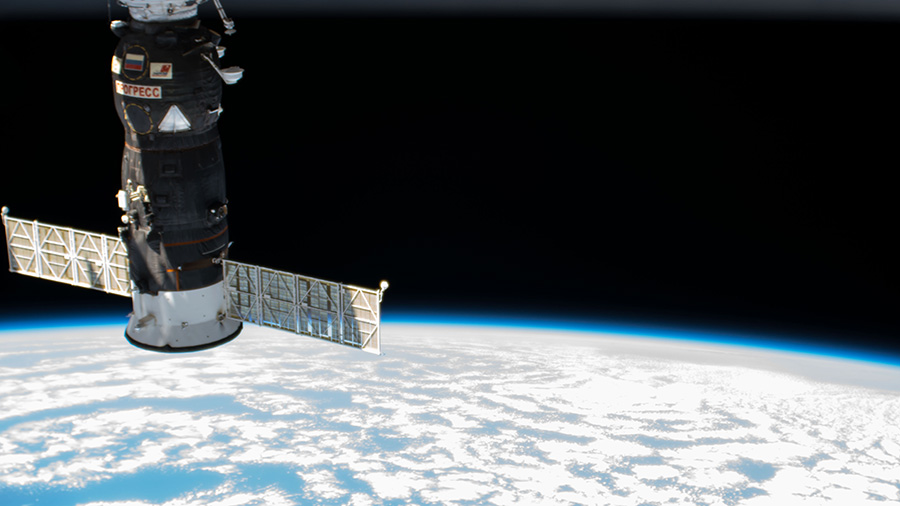 A Russian cargo craft departed the International Space Station this morning after completing a six-month stay at the Pirs docking compartment. Meanwhile, the Expedition 55 crew is less than a day away from beginning the fourth spacewalk this the year for orbital lab maintenance.
Russia's Progress 68 (68P) resupply ship flawlessly undocked from Pirs this morning at 9:50 a.m. EDT. It will orbit Earth for a month where Russian ground controllers will conduct a series of engineering tests on the 68P. The cargo ship will then reenter the atmosphere April 25 loaded with trash and discarded items for a fiery but safe demise over the Pacific Ocean.
While a pair of astronauts are finalizing spacewalk preparations today, the six Expedition 55 crew members spent an hour today reviewing emergency roles and responsibilities. The four astronauts and two cosmonauts practiced communication procedures with each other and mission controllers on the ground. The crew also checked the location of safety gear and followed escape routes to their Soyuz vehicles in the unlikely event a crisis would require evacuating the station.
Finally, spacewalkers Ricky Arnold and Drew Feustel have their tools and suits ready for Thursday's excursion to install antennas and replace a camera assembly outside the space station. The duo wrapped up final reviews today with Flight Engineers Scott Tingle and Norishige Kanai who will assist the spacewalkers in and out of their spacesuits. The spacewalk is expected to start at 8:10 a.m. tomorrow with NASA TV beginning its live coverage at 6:30 a.m.