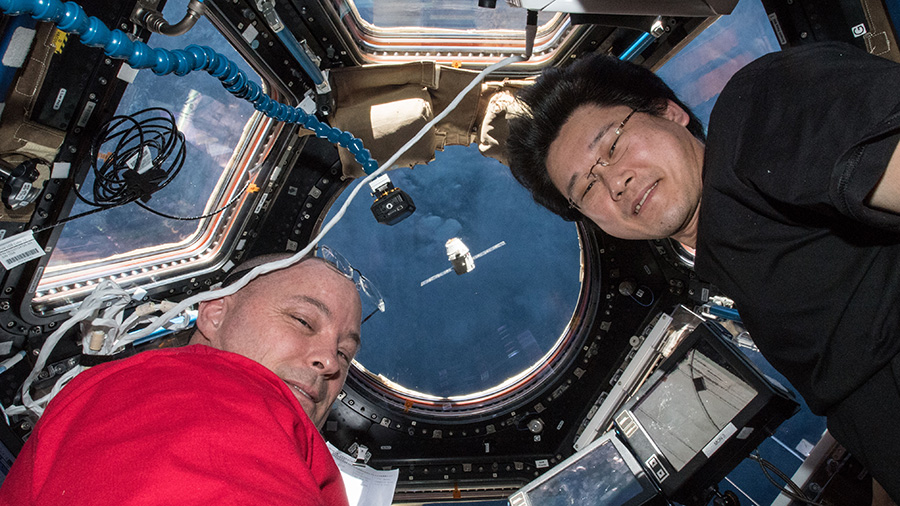 The SpaceX Dragon space freighter is open for business today as the Expedition 55 crew begins unloading and activating new time-sensitive space experiments aboard the International Space Station.
Astronaut Scott Tingle opened Dragon's hatch this morning and was the first to enter the spaceship. He and fellow NASA astronauts Drew Feustel and Ricky Arnold began offloading new science gear immediately afterward. Japanese astronaut Norishige Kanai tended to new mice shipped aboard Dragon and transferred them to habitats located inside Japan's Kibo laboratory module.
Some of the new space studies will enable research into a variety of biological organisms to understand microgravity's long term effects on life systems. Scientists hypothesize their observations will benefit both crews in space and people on Earth. Other experiments will study physics phenomena both inside and outside the orbital lab with potential impacts on future space systems and industrial and manufacturing processes on the ground.
Robotics operators on the ground will command the Canadarm2 robotic arm to ungrip the newly-installed Dragon today. They will remotely maneuver the Canadarm2 on Friday to extract unpressurized cargo, including life support gear and external research, from Dragon's exposed aft-end, also called its trunk. Dragon will remain attached to the Harmony module's Earth-facing port until early May.