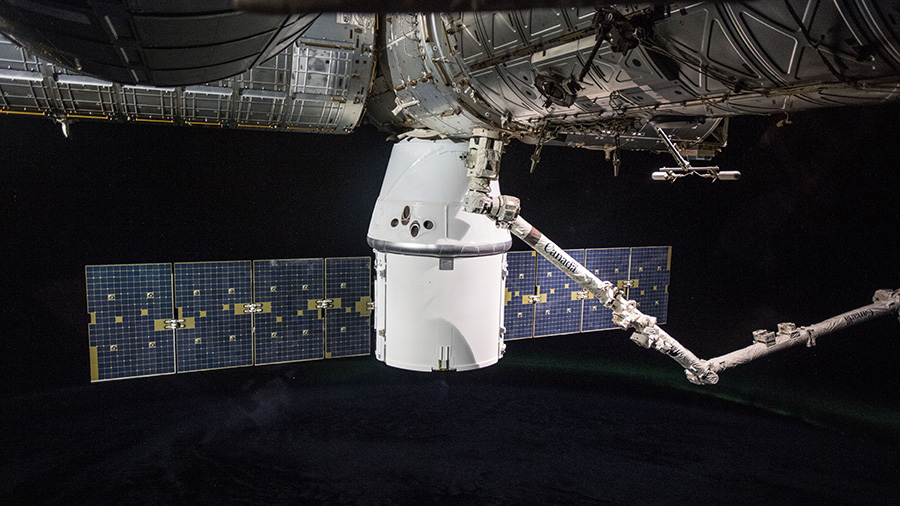 The Expedition 55 crew continued exploring today the numerous ways the human body is affected when living in space long-term. More cargo transfers are also taking place both inside and outside the SpaceX Dragon resupply ship.
NASA Flight Engineer Scott Tingle processed human tissue cultures for the Metabolic Tracking (MT) experiment to help doctors understand how medicine impacts astronauts.  His fellow NASA astronaut Ricky Arnold looked at a set of different biological samples for the student-built Genes in Space-5 experiment. That study is researching if DNA alterations and a weakened immune system are connected due to microgravity.
Arnold later joined Flight Engineer Drew Feustel for a routine eye exam with a fundoscope to get a good look at their retinas. The duo also worked to unload more cargo from Dragon which has been attached to the Harmony module since April 4.
Back on the ground at Mission Control in Houston, robotics engineers are working to remotely extract the Atmosphere-Space Interactions Monitor (ASIM) experiment from Dragon's trunk. They are operating the Canadarm2 to detach ASIM, an Earth observation facility, from Dragon and install it on the Columbus laboratory module. ASIM will study severe thunderstorms and their role in the Earth's atmosphere and climate.