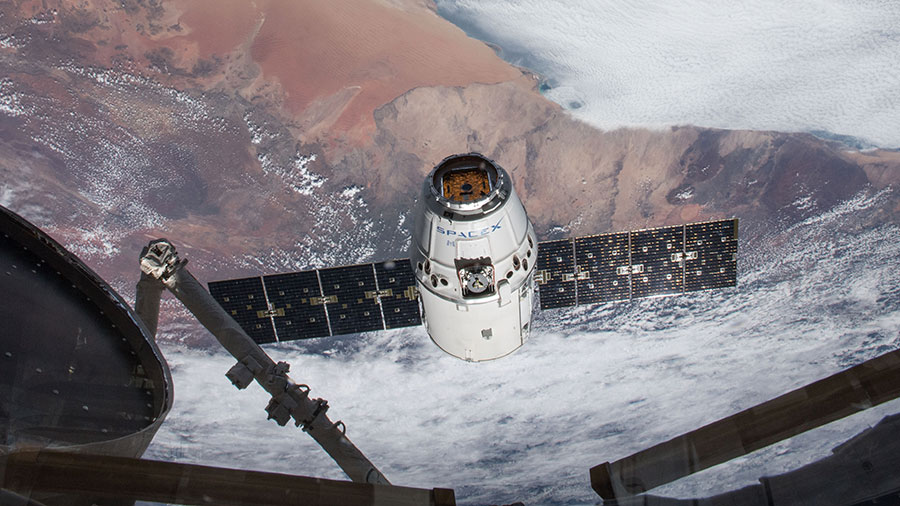 The crew on board the International Space Station has been busy this month unloading the bounty of supplies and equipment brought up by the SpaceX Dragon and repacking it with cargo to be returned to Earth. If you've ever wondered what goes into a layover at the space station, check out chapter 14 of the new NASA ebook, The International Space Station: Operating an Outpost in the New Frontier. The book, which was written by space station flight directors, is now available to download for free at https://go.usa.gov/xQbvH.
Here's an excerpt from Chapter 14: Vital Visiting Vehicles – Keeping the Remote Outpost Crewed and Operating.
Purpose and Importance of Visiting Vehicles

On Earth, a person's typical week might consist of a trip to the grocery store, several trips to the local home improvement store, taking out the trash and recyclables, and doing a few loads of laundry. If something is broken in the home, a replacement part is ordered and the homeowner must wait for a delivery. Or, he or she might need to schedule a professional to make the repair. Homeowners probably do not think about the water supply. They definitely do not worry about the supply of oxygen needed to breathe or the removal of carbon dioxide that is expelled from the human body.

The International Space Station (ISS) is a unique, world-class orbiting laboratory. It is also home to astronauts and cosmonauts. The logistics of keeping such a home running are complicated. In space, there are no grocery stores or home improvements stores. The "trash truck" only comes around every few months. Washers and dryers for clothing do not exist, and access to clean attire can take months. Much of the breathable air and drinkable water must be delivered. When supplies (e.g., bathroom tissue) are low, crew members cannot tap a few keys on the computer and wait for resupplies to arrive at the door. They call Mission Control and place their order, and then they wait.

Moving astronauts and cosmonauts, science experiments, food, water, air, spare parts, and other supplies to and from the ISS is a highly choreographed international operation that must be executed with near perfection, every time. Such an effort requires more than one spacecraft. This was never more evident than in an 8-month span between October 2014 and June 2015 when three different resupply missions were lost during or shortly after launch. Three different rockets from three different companies experienced three different failures. According to statistics, this scenario was supposed to be nearly impossible. Yet, it happened. Operations on board the ISS continued despite the lack of resupply.

So, exactly what does it take to keep the ISS resupplied? It starts with a procession of vehicles from around the world that visit the ISS.
Keep reading at https://go.usa.gov/xQbvH.