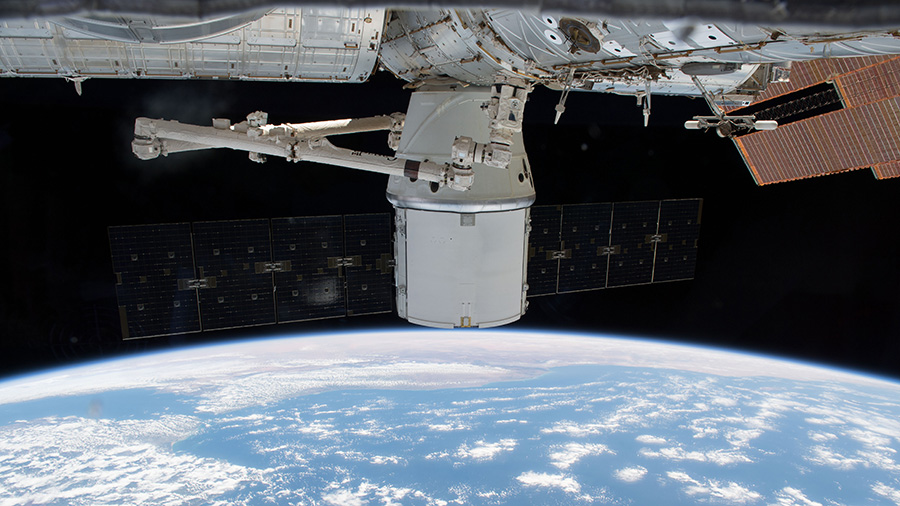 The SpaceX Dragon resupply ship is packed with International Space Station hardware and scientific samples ready for return to Earth on Saturday. Meanwhile, the Expedition 55 crew members continued maintenance of the orbital lab and space research operations.
Dragon's departure was pushed back from Wednesday after SpaceX personnel observed high sea states in the Pacific Ocean splashdown zone southwest of Long Beach, California. Its remotely controlled release from the Canadarm2 is now scheduled for Saturday at 9:30 a.m. EDT with live NASA TV coverage beginning at 9 a.m. Dragon's splashdown is targeted at about 3 p.m. but will not be seen on NASA TV.
Mice living on the station have been transferred to specialized habitats in Dragon. They will be studied on Earth to observe how their bones and muscles have changed during their stay in microgravity. Other critical biological samples preserved in science freezers, such as plants, insects and human tissue, have also been transferred into Dragon for retrieval and analysis.
The astronauts and cosmonauts living on the space station exercise every day to maintain strong bones and muscles on orbit. One of the workout machines, the Advanced Resistance Exercise Device (ARED), got a tune up today amid the Dragon close out activities. Flight Engineer Drew Feustel greased the ARED's rails and rollers and inspected its x-axis rotation points.