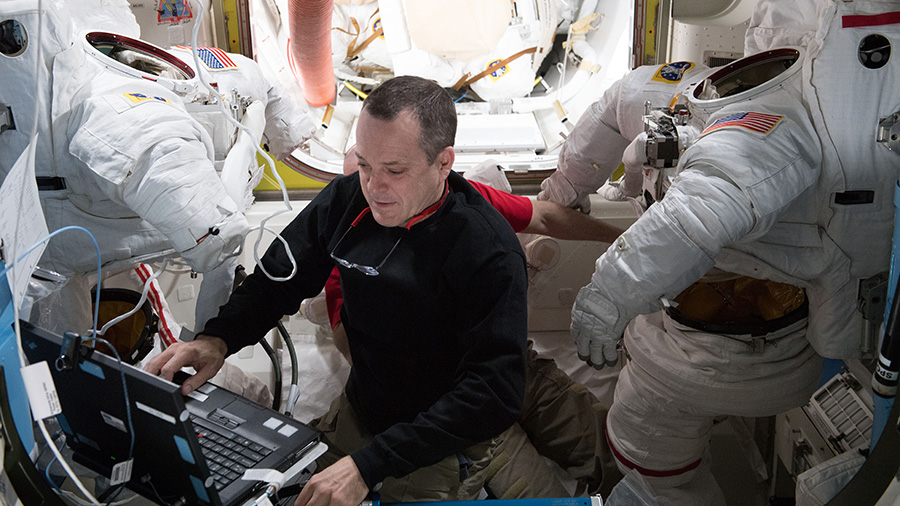 The Expedition 55 crew members are getting their U.S. spacesuits and equipment ready for a spacewalk in two weeks. The Dragon cargo craft from SpaceX is nearly loaded with NASA science and gear ahead of its Saturday return to Earth.
NASA astronauts Ricky Arnold and Drew Feustel are assembling hardware today that will be installed on the International Space Station when they conduct a spacewalk on May 16. The duo were assisted throughout the day by fellow NASA astronaut Scott Tingle scrubbing U.S. spacesuit water cooling loops and testing water samples for conductivity.
The veteran spacewalkers were mating repaired components from an external television camera group (ETVCG) that will be attached to the starboard side of the Destiny laboratory module. Their primary spacewalking task however, will be the swap out of thermal control gear that circulates ammonia to keep station systems cool.
Final packing is taking place inside the Dragon space freighter today as Tingle loads critical time-sensitive research samples inside the Earth-bound resupply ship. Robotics controllers will detach Dragon from the Harmony module Friday before releasing it Saturday at 9:24 a.m. from the grips of the Canadarm2. NASA TV will begin its live broadcast of the departure at 9 a.m. but will not televise its 3 p.m. splashdown in the Pacific Ocean.