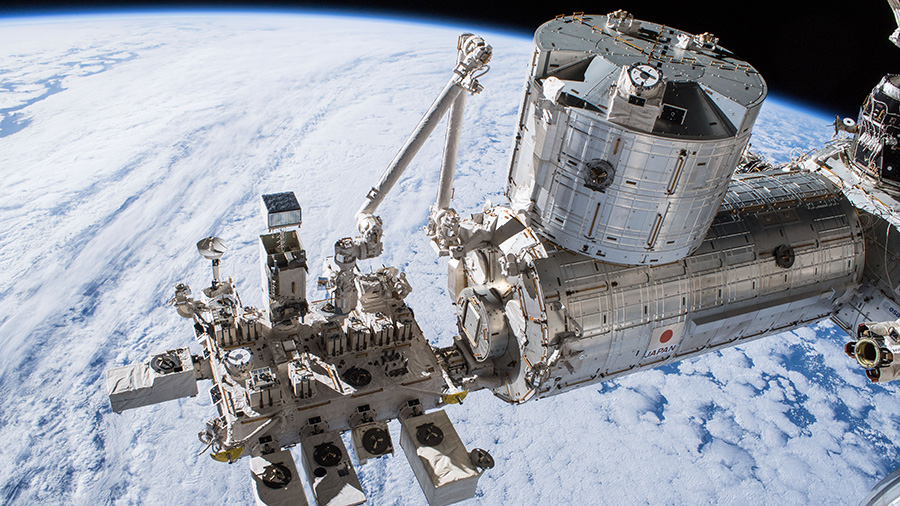 Two Expedition 55 Flight Engineers are using virtual reality and computer training today to prepare for next week's spacewalk at the International Space Station. Robotics controllers from Houston and Japan are also maneuvering a pair of robotic arms for the upcoming spacewalk and satellite deployments.
NASA astronauts Ricky Arnold and Drew Feustel will conduct the 210th spacewalk at the space station beginning Wednesday, May 16 at 8:10 a.m. EDT. The veteran spacewalkers will work for about 6.5 hours swapping thermal control gear that controls the circulation of ammonia to keep external station systems cool. NASA TV begins its live coverage at 6:30 a.m.
The veteran spacewalkers checked the functionality a pair of jet packs that will be attached to their U.S. spacesuits next week. The jet packs, known as Simplified Aid For EVA Rescue (SAFER), provide mobility for spacewalkers in the unlikely event they become untethered from the station. The duo also wore virtual reality goggles to practice maneuvering their SAFER jet packs and reviewed their spacewalk procedures.
Robotics controllers from opposite sides of the world maneuvered a pair of robotic arms independently of each other today. Canada's 57.7-foot-long robotic arm, nicknamed Canadarm2, was remotely positioned today by engineers in Houston in advance of next week's spacewalk activities. Controllers from the Japan Aerospace Exploration Agency remotely operated the Kibo laboratory module's robotic arm to prepare for the deployment of small satellites Friday morning.