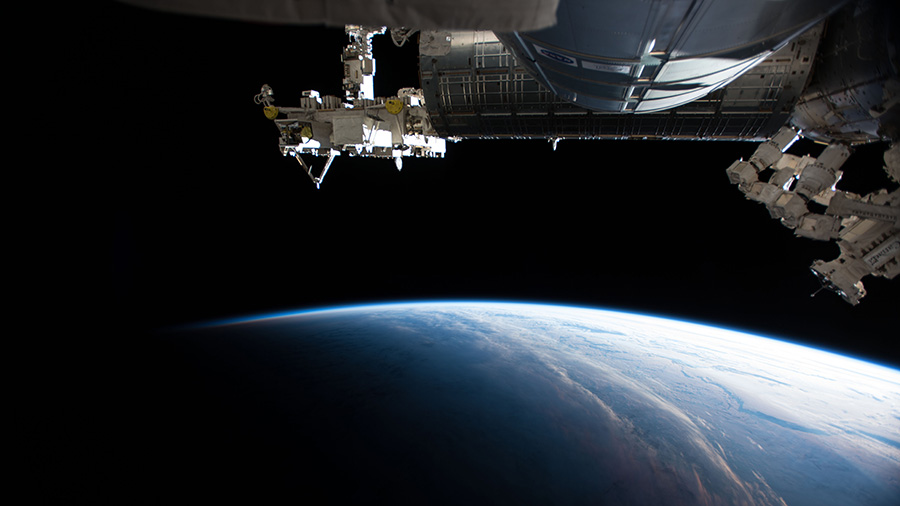 ---
Crew:  Captain Scott "Maker" Tingle, USN
ISS Location:  Low Earth Orbit
Earth Date: 25 December 2017
Earth Time (GMT):  21:00
---
At 22:00, after initial "safing" and unpacking of Soyuz, we finally retired to our quarters. It was very hard to sleep, and I think the busy days leading us to the International Space Station (ISS) were beginning to take their toll. We were scheduled for a full day of work to include familiarization of safety equipment as well as beginning to prepare several science experiments for action. The SpaceX Dragon cargo craft arrived to ISS a couple days before we did, and its cargo included several experiments that needed to be conducted promptly upon arrival. I was doing a great job of floating from one module to another. Since I was a little behind schedule due to having to learn where everything is, I decided I could speed up my floating to be more expeditious. Well, we know how that usually goes and this time was no exception. I gathered a "bag of knots" (aviator slang for "going really fast") and began a healthy transition from Node 2 into the Columbus module – where I predictably hit the top of my head. Ouch. The following three days (Tuesday-Saturday) were challenging as we worked to integrate all of our new knowledge and increase our efficiencies. The senior crew was very helpful and understanding. I was very grateful of how they managed our arrival and how they slowly passed down the information we needed to get started. Everything was different from life on Earth. Everything. We quickly figured out that we needed to think differently as we began to adapt to life in space. Drinking water, preparing food, eating food, using the toilet, working, physical training, etc., all different. I had a good handle on the differences and what to expect before I got there. But I didn't expect that when operations got very busy that my reflexes would respond naturally as they did on Earth. The light bulb came on. I was going to have to move slower and think about everything before I took action. This is why space fliers new to this environment appear to be less efficient than most managers and/or operations planners would like. Adaptation to life in space takes time, and you can't rush it.
On day three, I finally had the opportunity to look out the Cupola (window facing Earth). My Lord, what a beautiful sight. I could see the sun rising in front of us, darkness below and behind us, and a bright blue ring highlighting the curvature of the Earth as the sun began to rise. Absolutely amazing!
We wrapped up our busy week and celebrated Saturday night by enjoying some rehydrated meats and instant juices! Christmas Eve, we had a few tasks that kept us busy, and the same on Christmas Day.   Fortunately, we were able to have video conferences with our families over the holiday, and it was really nice to talk with them. We also had a very short celebration for Christmas after work was done. Our wonderful Behavioral Health Professionals at NASA had sent us Christmas stockings in the SpaceX cargo delivery. I added the small gifts that I brought for the crew – superhero socks! Mark got Hulk socks, Nemo (Norishige Kanai) got Spiderman socks, Joe got Deadpool socks, Anton got Superman socks, and Sasha and I got Batman socks. NOW, we are ready to conquer space!