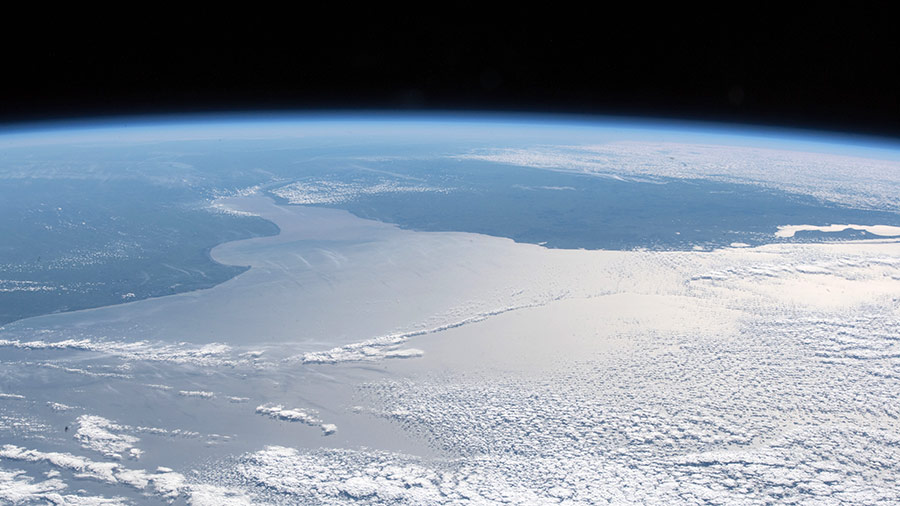 Two NASA astronauts are finalizing their preparations ahead of Wednesday morning's spacewalk to swap thermal control gear outside the International Space Station. The Expedition 55 crew also worked on biomedical operations, radiation checks and Cygnus communications gear.
Flight Engineers Ricky Arnold and Drew Feustel checked their tools and reviewed their procedures one last time today before tomorrow's spacewalk. The pair will work for about 6.5 hours swapping a pair of thermal control devices, known as Pump Flow Control Subassemblies, which control the circulation of ammonia keeping external station systems cool.
The veteran spacewalkers will set their spacesuit batteries to internal power Wednesday at about 8:10 a.m. EDT signaling the official start of the 210th spacewalk in space station history. NASA TV will begin its live broadcast of the activities beginning at 6:30 a.m.
Science and maintenance are always ongoing aboard the orbital lab even despite the spacewalk and cargo mission readiness activities. Feustel and Japanese astronaut Norishige Kanai collected their biological samples this morning and stowed them in a science freezer for later analysis. Cosmonaut Oleg Artemyev explored cardiac bioelectric activity at rest. Commander Anton Shkaplerov collected radiation measurements from dosimeters he retrieved from the orbital lab's U.S. segment.
Orbital ATK is getting its Cygnus space freighter ready for launch Sunday at 5:04 a.m. to deliver science, supplies and hardware to the Expedition 55 crew. Astronaut Scott Tingle checked out command and communications gear that will be used when Cygnus arrives four days later on Thursday for capture at 5:20 a.m.