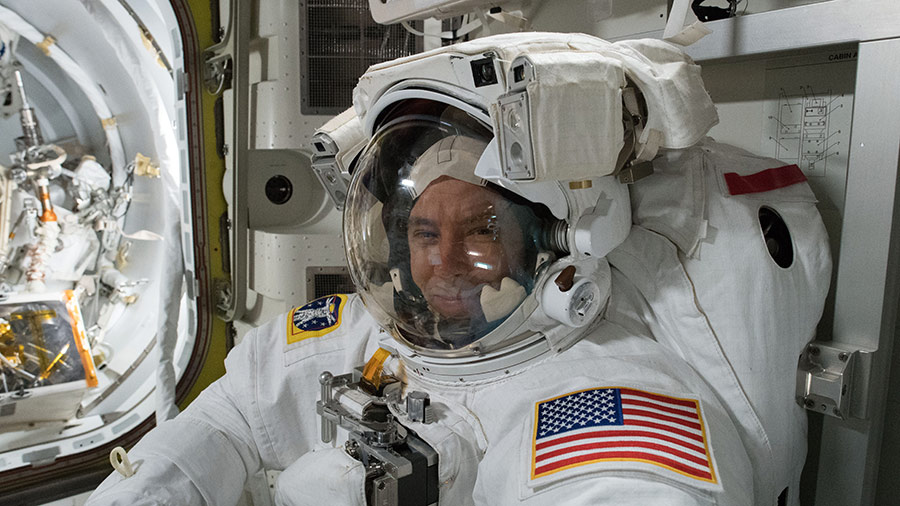 The Expedition 55 crew on board the International Space Station has been working hard to prepare for Wednesday's spacewalk, and they'll still have a lot of difficult work ahead of them when Flight Engineers Ricky Arnold and Drew Feustel head outside the airlock. If you've ever wondered what makes spacewalks such a big deal, check out chapter 17 of the new NASA ebook, The International Space Station: Operating an Outpost in the New Frontier. The book, which was written by space station flight directors, is now available to download for free at… https://go.usa.gov/xQbvH.
---
Chapter 17: Extravehicular Activities – Building a Space Station
Planning and Training Extravehicular Activity Tasks
On paper, the tasks needed for International Space Station assembly—e.g., driving a bolt, carrying something from one place to another, taking off a cover, plugging in an electrical cord—might not seem too complex. However, conducting such tasks while wearing a spacesuit with pressurized gloves (possibly with one's feet planted on the end of a long robotic arm), working in microgravity, maneuvering around huge structures while moving massive objects, having time constraints based on spacesuit consumables, and using specialized equipment and tools made these tasks and EVAs challenging.

Tasks such as working with cables or fluid hoses are hand-intensive work—fingers and forearms get quite a workout in pressurized gloves that feel like stiff balloons and resemble oversized garden gloves. Added to these complexities, space "walking" is mostly done with the hands. The astronaut grasps handholds and maneuvers the combination of the Extravehicular Mobility Unity, Simplified Aid for EVA Rescue, tools, and himself or herself around the structure.

The team on the ground has to come up with a choreography and order of events for the EVA, in advance. The flight control team creates the EVA timelines based on a high-level prioritized list of tasks determined by ISS management (e.g., move a specific antenna, install a particular avionics box). The flight controllers start with the top ISS priority task and assesses the other tasks that can fit into the EVA based on multiple factors such as how long the tasks will take based on past experiences, whether both crew members need to work together, task location on the ISS, how much equipment will fit into the airlock, the tools required, crew experience level, and the level of crew effort to complete the task. A task that might fit (but only if the team is efficient) is put on the list as a "get-ahead" task.

Real-time discussions in Mission Control of EVA time remaining, crew fatigue, and suit consumables could allow the get-ahead task to be accomplished in addition to the planned tasks. Some tasks are performed on a "clock"; i.e., if power is removed from an item, it might get cold and need heater power in a matter of hours or sometimes within minutes to prevent damage. While a timeline is still in a draft version, the team conducts testing as required to prove out the operations. The team then trains the crew and refines and/or changes the timeline, sometimes up to the day of the EVA.
Keep reading at https://go.usa.gov/xQbvH.