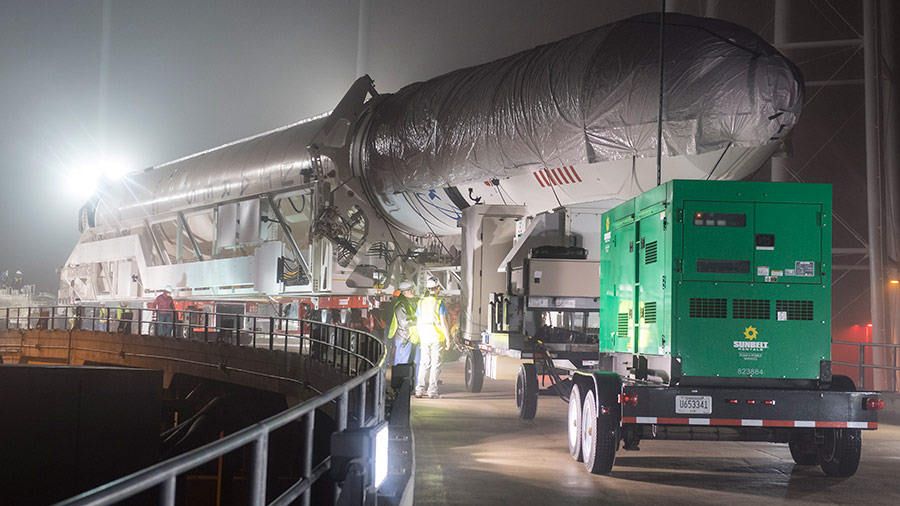 The Orbital ATK Cygnus cargo craft that will resupply the Expedition 55 crew on the International Space Station rolled out to its launch pad Thursday night. Cygnus is now targeted to blast off atop the Antares rocket Monday at 4:39 a.m. EDT from Wallops Flight Facility in Virginia. NASA TV will begin its live broadcast of the launch Monday at 4 a.m.
Orbital ATK and NASA managers moved Cygnus' launch to no earlier than Monday to support further pre-launch inspections and more favorable weather conditions. Monday shows an 80% probability of acceptable weather for launch.
Cygnus is packed with 7,400 pounds of new science experiments, crew supplies and space station hardware. It is scheduled to arrive Thursday at the space station for its robotic capture at 5:20 a.m. NASA TV will cover the approach and rendezvous activities starting at 3:30 a.m.
Three NASA astronauts, Scott Tingle, Ricky Arnold and Drew Feustel, have trained for weeks to get ready for Cygnus' arrival on Thursday. Tingle will be operating the Canadarm2 from inside the Cupola and command the robotic arm to grapple Cygnus. Arnold will back him up on the robotics controls and Feustel will monitor Cygnus and it systems during its approach. Robotics engineers on the ground will then remotely install the commercial space freighter on the Earth-facing port of the Unity module later Thursday morning.
One of the new experiments being delivered aboard Cygnus to the orbital laboratory will study atoms frozen to a temperature 10 billion times colder than deep space. The Cold Atom Lab will observe the quantum phenomena possibly leading to advanced spacecraft navigation techniques and quantum sensors that can detect gravitational and magnetic fields.