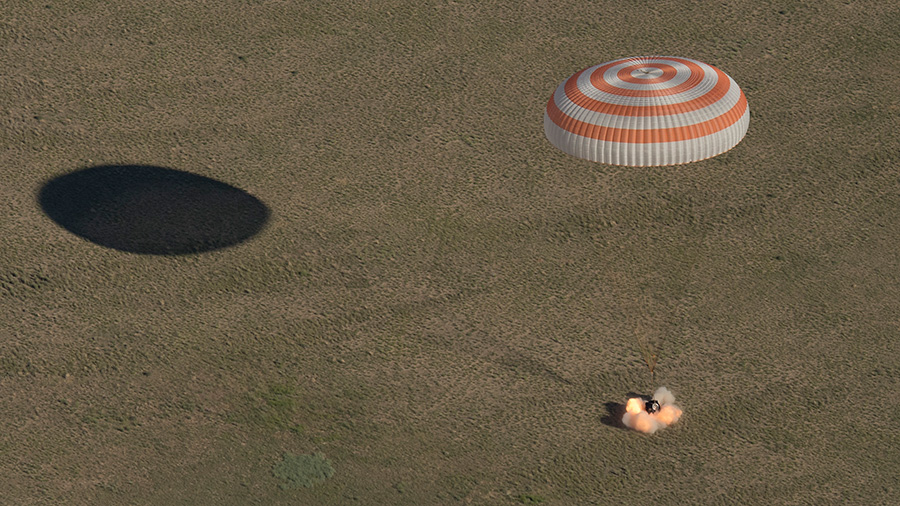 Three crew members who have been living and working aboard the International Space Station have landed safely in Kazakhstan.
NASA astronaut Scott Tingle, Norishige Kanai of the Japan Aerospace Exploration Agency (JAXA) and Anton Shkaplerov of Roscosmos landed at 8:39 a.m. EDT (6:39 p.m. in Kazakhstan) southeast of the remote town of Dzhezkazgan in Kazakhstan.
The crew completed hundreds of experiments during their 168-day stay aboard the station. Highlights from this research include materials testing, a study of the effect of microgravity on the bone marrow, and research into plant growth in space.
The crew also welcomed four cargo spacecraft delivering several tons of supplies and research experiments A SpaceX Dragon spacecraft arrived at the station in December, followed by another Dragon in April and Orbital ATK's Cygnus resupply spacecraft in May. A Russian Progress cargo craft arrived at the station in February.
Tingle and Kanai logged 168 days in space on their first missions. Tingle and Kanai ventured outside the station on separate spacewalks to perform work on parts of the Canadarm2 robotic arm. They also participated in dozens of educational events as part of NASA's Year of Education on Station.
Shkaplerov conducted one record-setting spacewalk with fellow cosmonaut Alexander Misurkin to replace an electronics box for a high-gain communications antenna on the Zvezda service module. The spacewalk timed out at 8 hours and 13 minutes, the longest in Russian space program history. Shkaplerov now has spent 552 days in space on his three flights.
The Expedition 56 crew – Commander Drew Feustel and Ricky Arnold of NASA, and Oleg Artemyev of Roscosmos – will operate the station and prepare for the arrival of three new crew members on Friday, June 8. Serena Auñón-Chancellor of NASA, Alexander Gerst of ESA (European Space Agency), and Sergey Prokopyev of Roscosmos are scheduled to launch Wednesday, June 6, from Baikonur, Kazakhstan. NASA Television will broadcast the launch and docking. NASA Television will broadcast the launch and docking.
Coverage of Expedition 56 launch activities will be as follows (all times EDT):
Wednesday, June 6
6:15 a.m. – Soyuz MS-09 launch coverage (launch at 7:12 a.m.)
Friday, June 8
8:15 a.m. – Docking coverage (docking scheduled for 9:07 a.m.)
10:30 a.m. – Hatch opening and welcome coverage
A full complement of video of the crew's prelaunch activities in Baikonur will air on NASA TV in the days preceding launch.
For more information about the International Space Station, visit www.nasa.gov/station.