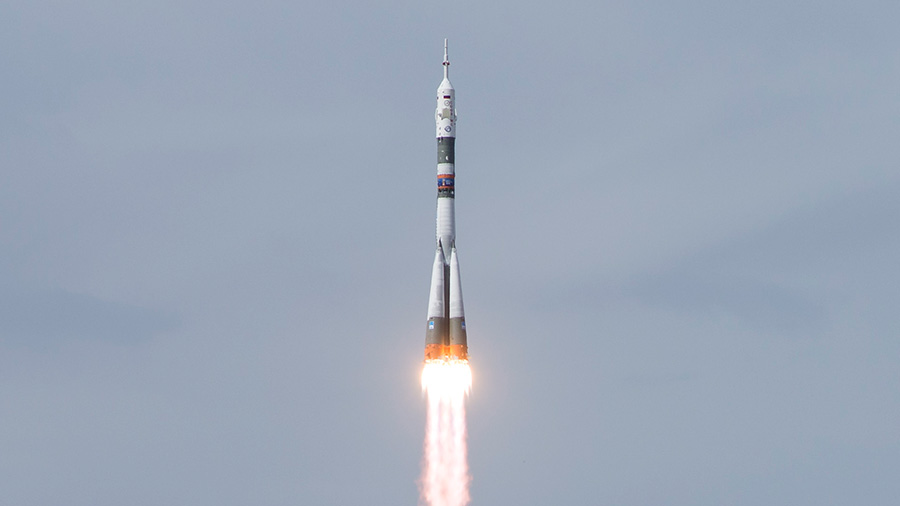 The Soyuz MS-09 launched from the Baikonur Cosmodrome in Kazakhstan to the International Space Station at 7:12 a.m. EDT Wednesday, June 6 (5:12 p.m. in Baikonur). At the time of launch, the station was flying about 250 miles above south central Egypt, moving from southwest to northeast. NASA astronaut Serena Auñón-Chancellor, Alexander Gerst of ESA (European Space Agency), and Sergey Prokopyev of Roscosmos are now safely in orbit.
The crew will orbit Earth 34 times before the spacecraft's arrival and docking to the space station's Rassvet module at 9:07 a.m. Friday, June 8, which will air on NASA Television and the agency's website, followed at 10:30 a.m. by coverage of the opening of hatches between the spacecraft and station.
The docking timeline Friday, June 8 EDT is:
8:15 a.m. – Docking coverage begins (docking scheduled for 9:07 a.m.)
10:30 a.m. – Hatch opening and welcome coverage begins (hatch opening expected at 11:05 a.m.)
 The arrival of Auñón-Chancellor, Gerst and Prokopyev will restore the station to six crew members. They will join Expedition 56 commander Drew Feustel and flight engineers Ricky Arnold of NASA and Oleg Artemyev of Roscosmos. The crew will spend more than five months conducting about 250 science investigations in fields such as biology, Earth science, human research, physical sciences and technology development.
This crew continues the long-term increase in crew size on the U.S. segment from three to four, allowing NASA to maximize time dedicated to research on the space station. Highlights of upcoming investigations include a new facility to study ultra-cold quantum gases, the first commercial European facility to conduct microgravity research, and a system that uses surface forces to accomplish liquid-liquid separation.
 Feustel, Arnold and Artemyev are scheduled to remain aboard the station until October, while Auñón-Chancellor, Gerst and Prokopyev are slated to return to Earth in December.
 For launch coverage and more information about the mission, visit: https://blogs.nasa.gov/spacestation/. Get breaking news, images and features from the station on Instagram at: @iss and on Twitter @Space_Station and @ISS_Research.