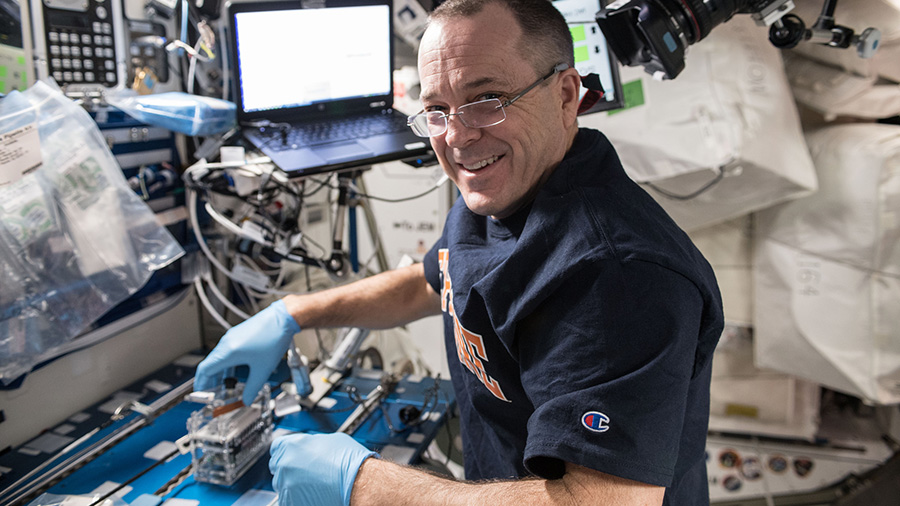 A trio of studies taking place today aboard the International Space Station explored a potential cancer therapy, researched human reproduction and observed protein crystals. Eye exams were also on the schedule to understand how microgravity impacts vision.
NASA astronaut Serena Auñón-Chancellor started her morning peering at endothelial cells through a microscope for the AngieX Cancer Therapy study. Afterward, she moved on to the Micro-11 investigation examining more biological samples in a microscope to gain fundamental data about successful reproduction in space.
Alexander Gerst, of the European Space Agency, contributed to pharmaceutical research during the afternoon stowing protein molecules in a science freezer. Microgravity enables the growth of high quality protein crystals revealing structures and properties that could improve disease-fighting therapies on Earth.
Gerst first started his day scanning NASA astronaut Ricky Arnold's for eyes using Optical Coherence Tomography, a light imaging technique analogous to ultrasound. The data helps doctors understand how the weightless environment of microgravity impacts vision so mission controllers can plan safer spaceflight missions.
Finally, the SpaceX Dragon space freighter is being packed for its return to Earth on Aug. 3. Arnold and Commander Drew Feustel took turns today loading Dragon with station hardware and research samples for retrieval and analysis on Earth.