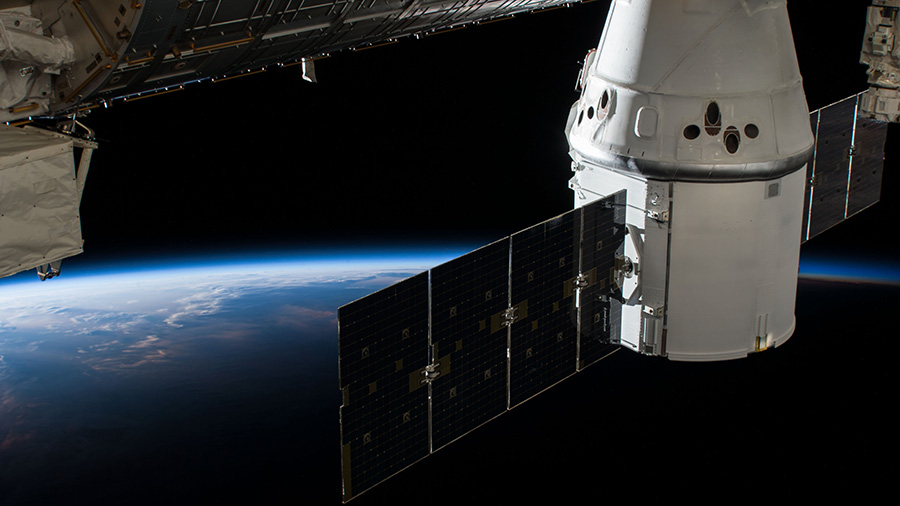 The International Space Station Partners and mission managers polled "go" for tomorrow's release of the SpaceX Dragon cargo craft for its deorbit and splashdown in the Pacific Ocean to wrap up the CRS-15 mission.
With favorable weather conditions forecast in the splashdown zone, Dragon's hatch will be closed early Friday around 3 a.m. Central time. Robotic ground controllers will then use the Canadarm2 robotic arm to detach Dragon from the Earth-facing port of the Harmony module around 5:30 a.m. Central time and will maneuver Dragon into the release position.
With Expedition 56 Flight Engineer Serena Auñón-Chancellor of NASA monitoring Dragon's systems, the ground controllers will release Dragon from Canadarm2 at 11:37 a.m. Central time. After its release, Dragon will conduct a series of "departure" burns to move to a safe distance away from the station.
Several hours later, at 4:23 p.m. Central time, SpaceX flight controllers at Hawthorne, California will command Dragon's engine to fire for 12 minutes and 53 seconds in the deorbit burn that will enable Dragon to slip out of orbit for its descent back to Earth.
Dragon's parachute-assisted splashdown is scheduled at 5:17 p.m. Central time, 3:17 p.m. Pacific time, about 410 miles southwest of Long Beach, California. It will take about two days for Dragon to be brought back to port for its cache of cargo and scientific experiments to be unloaded.
---
Get weekly video highlights at: http://jscfeatures.jsc.nasa.gov/videoupdate/