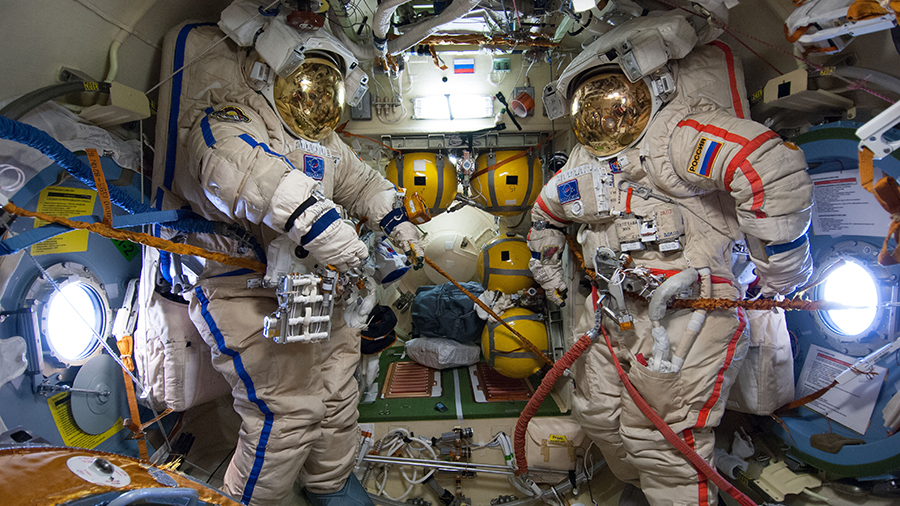 Two Expedition 56 cosmonauts are getting ready for a spacewalk set for next week as the rest of the International Space Station crew took the day off. A Russian cargo craft is also poised to take out the trash and depart the orbital lab at the end of the month.
Cosmonauts Oleg Artemyev and Sergey Prokopyev will put on their Orlan spacesuits and work outside the station's Russian segment for about seven hours on Aug. 15. The duo will toss tiny satellites into Earth orbit, install antennas and cables on the Zvezda service module and retrieve experiments that analyzed external station surfaces and observed plasma waves.
They spent Monday installing batteries that will power their spacesuits next week for the duration of their spacewalk. Artemyev and Prokopyev also ensured their suits were sized properly and conducted leak checks. Finally, they reviewed the procedures they will use next week when they exit and enter the airlock inside the Pirs docking compartment.
The rest of the crew is relaxing today after an intense week of completing crucial space science and loading the time-sensitive research samples inside the Dragon cargo craft for its return to Earth. Dragon splashed down in the Pacific Ocean Friday and was quickly retrieved so scientists and engineers could begin analyzing the science and refurbishing the station hardware.
The next spacecraft due to leave the station is Russia's Progress 69 (69P) resupply ship on Aug. 22 packed with trash and discarded gear. It launched Feb. 13 and arrived two days later loaded with over three tons of food, fuel and supplies. The 69P will deorbit on Aug. 29 after a week of engineering tests for a fiery but safe disposal over the Pacific Ocean.