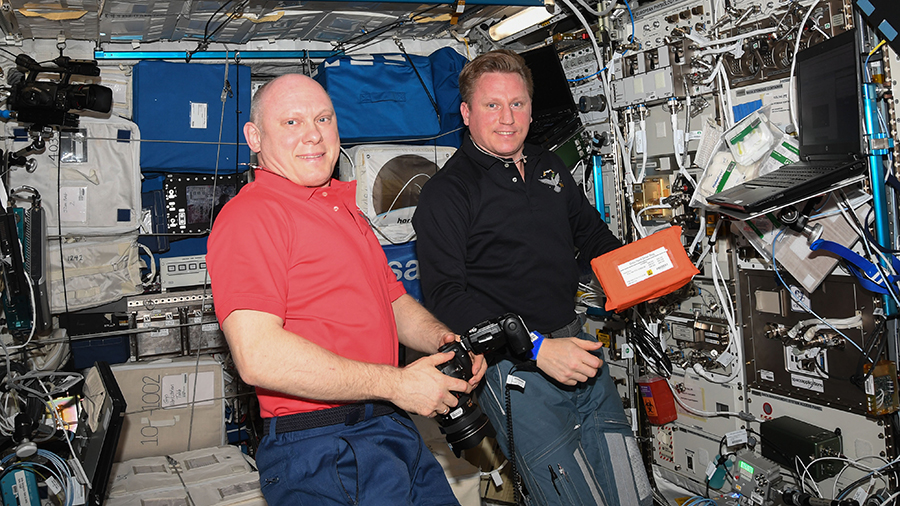 The Expedition 56 crew members explored how human health and physical processes are affected off the Earth today. The orbital residents are also configuring the International Space Station for a Russian spacewalk next week and a Japanese cargo craft mission in September.
A long-running human research study is helping doctors understand the impacts of microgravity shifting fluids upward in an astronaut's body. Two astronauts, Serena Auñón-Chancellor of NASA and Alexander Gerst of ESA, joined forces today for that study using an ultrasound device for eye scans with assistance from specialists on Earth. The experiment aims to help researchers prevent the upward fluid shifts that put pressure on an astronaut's eyes potentially affecting vision in space and back on Earth after a mission.
The orbital complex enables research into a variety of space physics including the observation of atoms nearly frozen still when exposed to the coldest temperatures in the universe. The Cold Atom Lab (CAL), which chills atoms to about one ten billionth of a degree above absolute zero, had its fiber cables inspected by NASA astronaut Ricky Arnold today during troubleshooting operations. CAL was delivered to the station in May aboard the Cygnus space freighter then installed in the Columbus laboratory module shortly after.
A spacewalk is scheduled for Aug. 15 when cosmonauts Oleg Artemyev and Sergey Prokopyev will work outside the station's Russian segment for about 6 hours of science and maintenance tasks. The duo spent Wednesday afternoon checking their Orlan spacesuits in a pressurized configuration. They also installed U.S. lights and video cameras on the suits ahead of next week's excursion.
The Japan Aerospace Exploration Agency (JAXA) is planning a Sept. 10 launch of its H-II Transfer Vehicle (HTV) for capture and installation to the space station. HTV will be carrying cargo and new lithium ion batteries for installation on the station's Port-4 truss power system. Commander Drew Feustel partnered with Gerst and Arnold throughout the day readying JAXA's Kibo laboratory module for the upcoming delivery mission.
---
Get weekly video highlights at: http://jscfeatures.jsc.nasa.gov/videoupdate/