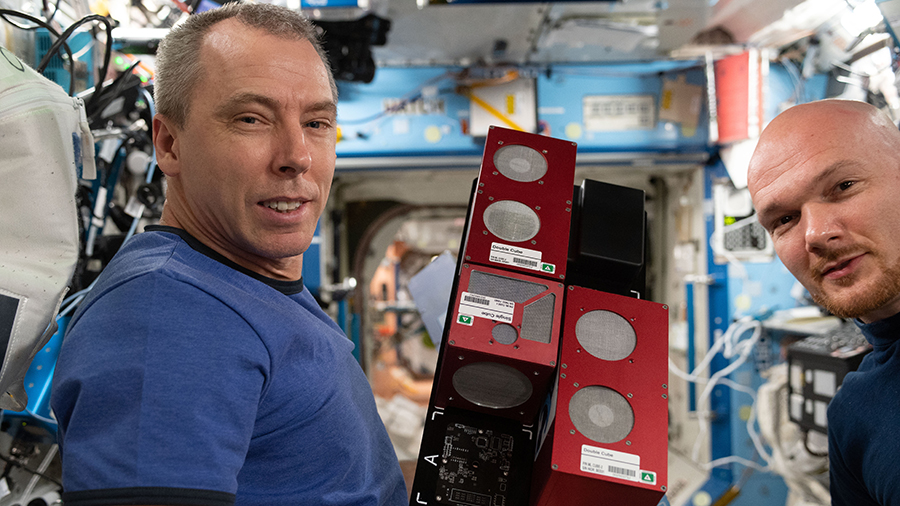 A pair of cosmonauts are going into the weekend preparing for the seventh spacewalk this year from the International Space Station. The rest of the Expedition 56 crew set up a student satellite competition, made space for a cargo mission and checked combustion experiment gear.
Cosmonauts Oleg Artemyev and Sergey Prokopyev are getting ready for a spacewalk Aug. 15 to conduct science and maintenance outside the station's Russian segment. Artemyev, who has two previous spacewalks under his belt, and Prokopyev suited up Friday for a dry run of their upcoming spacewalk with assistance from NASA astronaut Serena Auñón-Chancellor. The duo will hand-deploy four tiny satellites, install antennas and cables and collect exposed science experiments.
Commander Drew Feustel and Flight Engineer Ricky Arnold set up a pair of tiny satellites, known as SPHERES, for operation during the SPHERES Zero Robotics student competition. Middle school students in the United States are competing to write the best algorithms to operate the SPHERES simulating a mission on Saturn's moon Enceladus.
Alexander Gerst of ESA joined Arnold before lunchtime making space for cargo due to be delivered in Sept. 14 aboard Japan's H-II Transfer Vehicle. Gerst then opened up the Combustion Integrated Rack in the afternoon and took pictures of ACME (Advanced Combustion via Microgravity Experiments) gear that supports five independent gaseous flame studies.
---
Get weekly video highlights at: http://jscfeatures.jsc.nasa.gov/videoupdate/