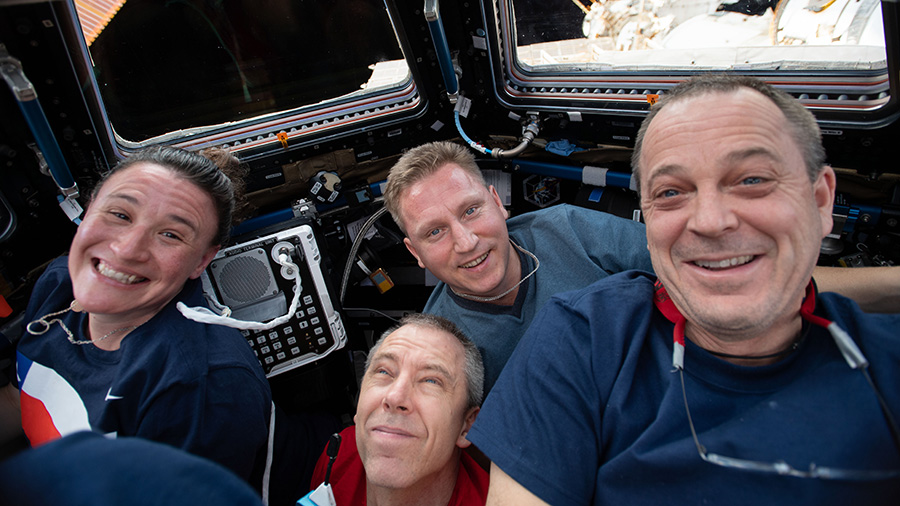 A pair of German experiments took place aboard the International Space Station today including a space exercise study and the installation of an Earth spectral sensor. The Expedition 56 crew members are also looking ahead to Wednesday's Russian cargo ship departure and a pair of U.S. spacewalks in September.
Astronaut Alexander Gerst of ESA (European Space Agency) exercised today in a t-shirt designed with a specialized fabric for the SpaceTex-2 study. The research, sponsored by the German Aerospace Centre (DLR), is evaluating whether the custom t-shirt provides comfort, efficient thermal control and sweat evaporation during a workout in microgravity.
Commander Drew Feustel worked on another DLR experiment that will provide hyperspectral imagery of the Earth. Feustel is readying the German-built Earth spectrometer for its installation outside of the Japanese Kibo laboratory module. It will monitor urban and agricultural development, the health of vegetation and water areas as well as the environmental effects of natural and manmade disasters.
Russia's Progress 69 (69P) cargo craft loaded with trash is poised for its undocking Wednesday at 10:16 p.m. EDT from the aft port of the Zvezda service module. The 69P will orbit the Earth for seven more days of engineering tests before it deorbits over the Pacific Ocean for a fiery but safe disposal.
Two U.S. spacewalks are planned for Sept. 20 and 26 to replace batteries on the space station's Port 4 truss structure power channels. Gerst will join Feustel on the first spacewalk then go out again on the second spacewalk with NASA astronaut Ricky Arnold. The batteries are targeted for delivery on Sept. 14 aboard Japan's "Kounotori" HTV resupply ship.