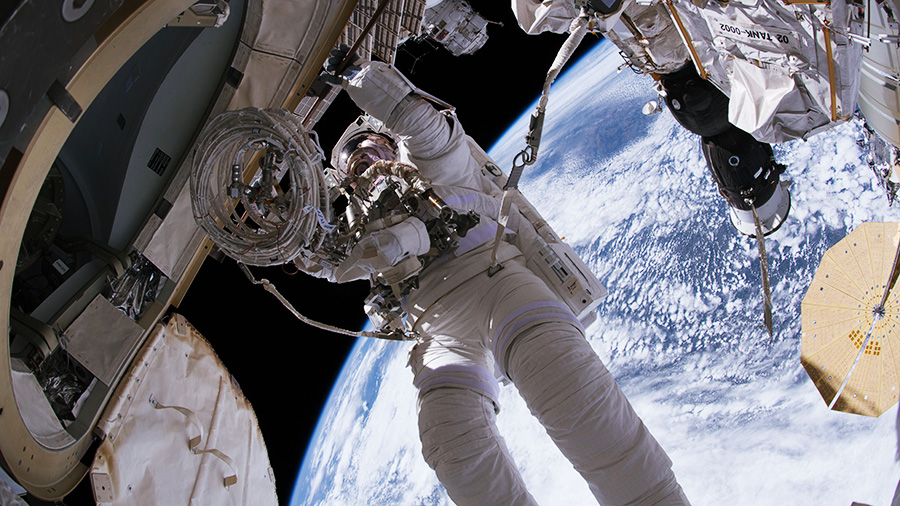 September is scheduled to be a busy month for the Expedition 56 crew aboard the International Space Station. Japan is preparing to launch its seventh resupply mission and three astronauts are gearing up for two spacewalks next month.
Today, a pair of astronauts familiarized themselves with the robotics maneuvers they will use when they capture Japan's H-II Transfer Vehicle (HTV-7) on Sept. 14. The HTV-7, also called the Kounotori, will launch Sept. 10 from the Tanegashima Space Center loaded with crew supplies, new science hardware and critical spacewalk gear.
Commander Drew Feustel will be supported by Flight Engineer Serena Auñón-Chancellor inside the Cupola as he controls the Canadarm2 to reach out and grapple the HTV-7. Robotics controllers on the ground will then take over and install Kounotori on the Harmony module's Earth-facing port. NASA TV will broadcast live all of Kounotori's launch, rendezvous and capture activities.
A pair of spacewalks will take place soon after the Kounotori arrives when robotics controllers begin removing new batteries from the Japanese resupply ship. The six lithium-ion batteries, replacing 12 older nickel-hydrogen batteries, will be installed on the space station's Port 4 truss structure power channels during the two spacewalks on Sept 20 and 26.
Flight Engineer Alexander Gerst will participate in both spacewalks. Commander Drew Feustel will join him on the first spacewalk. Flight Engineer Ricky Arnold will go out on the second spacewalk. Gerst and Feustel began inspecting and resizing their U.S. spacesuits this morning. Feustel then moved on checking spacesuit gloves and helmets before finally collecting spacewalk tools.