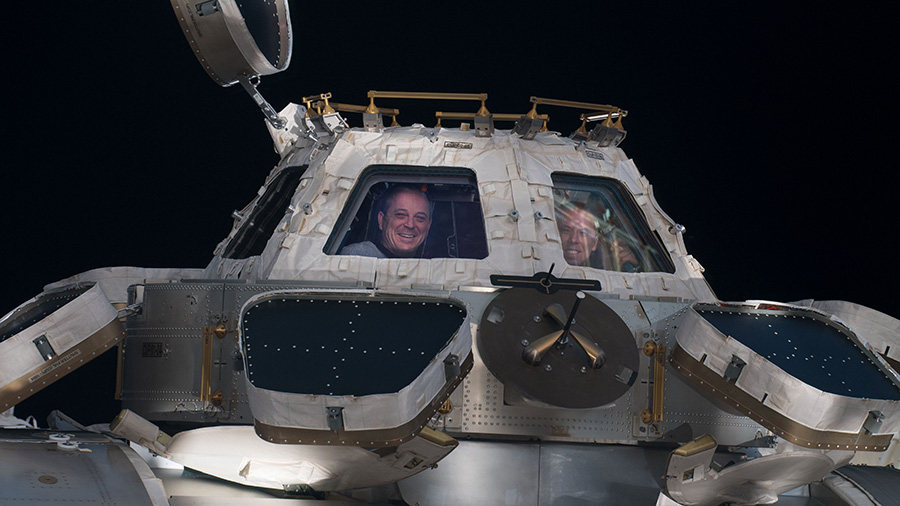 A Russian cargo ship is packed and ready for departure tonight from the International Space Station after a six-month stay. Meanwhile, the Expedition 56 crew members explored a variety of biological phenomena impacted by the weightless environment of space.
Russia's Progress 69 (69P) cargo craft will undock from the Zvezda service module tonight at 10:16 p.m. EDT packed with trash and discarded hardware. It will orbit Earth for seven more days of engineering tests before finally reentering Earth's atmosphere over the Pacific Ocean for a fiery, but safe destruction. The 69P arrived in February delivering over three tons of food, fuel and supplies for the Expedition 54 crew.
Three astronauts worked three different life science experiments today to understand how living in space affects biology. The results could potentially increase the efficiency of orbital research and improve the lives of humans on Earth and in space.
Commander Drew Feustel, who leads the six-member station crew, looked at protein crystals through a microscope today for the BioServe Protein Crystalography study. The experiment is helping scientists on Earth analyze the samples in space real time, possibly saving critical research time and improving the development of disease-treating drugs.
Educator astronaut Ricky Arnold of NASA took part in another similar protein crystal study today peering through a microscope and photographing research samples. The main objective of the Protein Crystal Growth-13 experiment is to fine-tune the research process in space and help public and private organizations deliver results and benefits sooner.
Exercise is critically important in space so astronauts can stay healthy while living off the Earth for long periods of time. Researchers from the German Aerospace Centre (DLR) are observing a new type of t-shirt with a specialized fabric that can help astronauts dispel heat and sweat efficiently during a space workout. Astronaut Alexander Gerst of ESA (European Space Agency) exercised today in the custom t-shirt for the SpaceTex-2 study to report on its comfort and effectiveness.