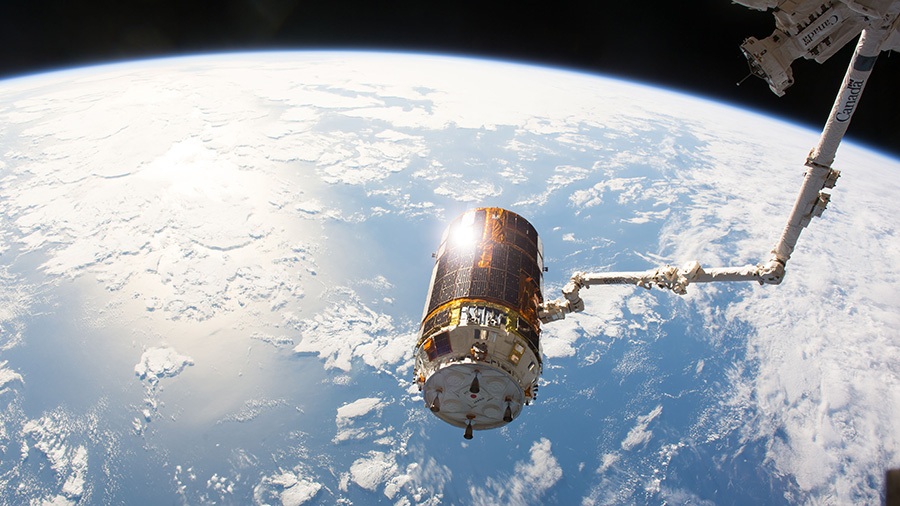 A rocket carrying Japan's seventh H-II Transfer Vehicle (HTV-7) is poised to launch next Monday on a cargo delivery mission to the International Space Station. The Expedition 56 crew members trained for the HTV-7's arrival, conducted eye checks and prepared for a pair of spacewalks.
On Sept. 10, the Japan Aerospace Exploration Agency (JAXA) is launching a cargo craft, exactly nine years to the day JAXA launched its first HTV mission, to the space station. The HTV-7 will take a four-day trip before reaching a point just 10 meters away from the orbital lab. Commander Drew Feustel will then grapple it with the Canadarm2 robotic arm as Flight Engineer Serena Auñón-Chancellor backs him up inside the cupola.
The duo practiced for next week's approach and rendezvous of the HTV-7 then turned their attention to eye exams and ultrasound eye scans. Their cosmonaut crewmates, Oleg Artemyev and Sergey Prokopyev, also participated in the eye exams using Optical Coherence Tomography for detailed views of their retinas.
After the HTV-7 arrives, robotics controllers will begin the work of removing six new lithium-ion batteries from the HTV-7's External Pallet and storing them on the Port 4 (P4) truss structure. They will replace a dozen older nickel-hydrogen batteries on the station's P4. Nine of the older batteries will be stowed inside the HTV-7 for disposal and the other three stored on the P4.
Three astronauts will then install and hookup the battery adapter plates over a pair of spacewalks planned for Sept. 20 and 26. ESA astronaut Alexander Gerst will participate in both spacewalks, with Feustel on the first and NASA astronaut Ricky Arnold on the second.
NASA TV is broadcasting live the HTV-7 launch and rendezvous activities as well as both spacewalks.
---
Get weekly video highlights at: http://jscfeatures.jsc.nasa.gov/videoupdate/