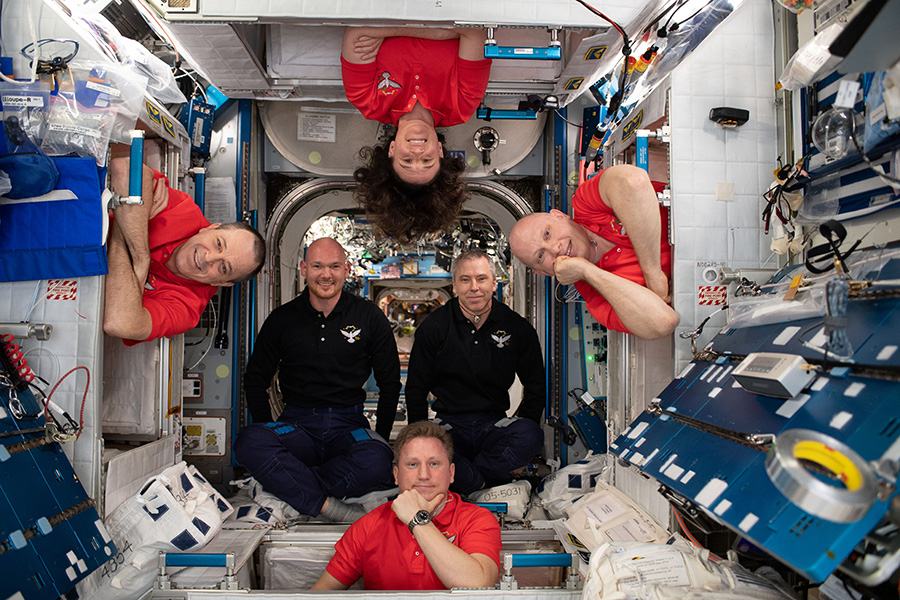 The Expedition 56 crew members conducted maintenance work on a variety of advanced science gear today to ensure ongoing space research aboard the International Space Station. The crew also continued a pair of exercise studies and trained to capture a Japanese cargo craft before tonight's orbital reboost of the station.
Commander Drew Feustel spent Wednesday afternoon inside ESA's (European Space Agency) Columbus laboratory module working on the Electromagnetic Levitator (EML). He installed a new storage disc and a high speed camera controller inside the EML. The space furnace enables research and observations of the properties of materials exposed to extremely high temperatures.
Flight Engineer Ricky Arnold worked in JAXA's (Japan Aerospace Exploration Agency) Kibo laboratory module during the morning replacing valves inside the EXPRESS Rack-5. The science rack, which was delivered to the orbital lab in 2001, can host a variety of experiments operated by astronauts on the station or remotely by scientists on Earth.
Astronaut Alexander Gerst of ESA has been contributing to a pair of German exercise studies for a few weeks to help doctors maintain astronaut health. Today, he continued testing a custom-designed thermal t-shirt and researching a wearable device for real-time cardio-pulmonary diagnosis during a workout.
Gerst and Feustel wrapped up the day with Flight Engineer Serena Auñón-Chancellor reviewing next week's arrival of JAXA's HTV-7 resupply ship. The HTV-7's launch is planned for Monday at 6:32 p.m. EDT and its capture with the Canadarm2 set for Sept. 14 at 7:40 a.m. NASA TV will cover both activities live.
Finally, the orbital lab is due to raise its orbit tonight in the second of three planned maneuvers to prepare for a crew swap in October. The Zvezda service module will fire its engines for 13 seconds slightly boosting the station's orbit in advance of a pair of Soyuz crew ships departing and arriving next month.