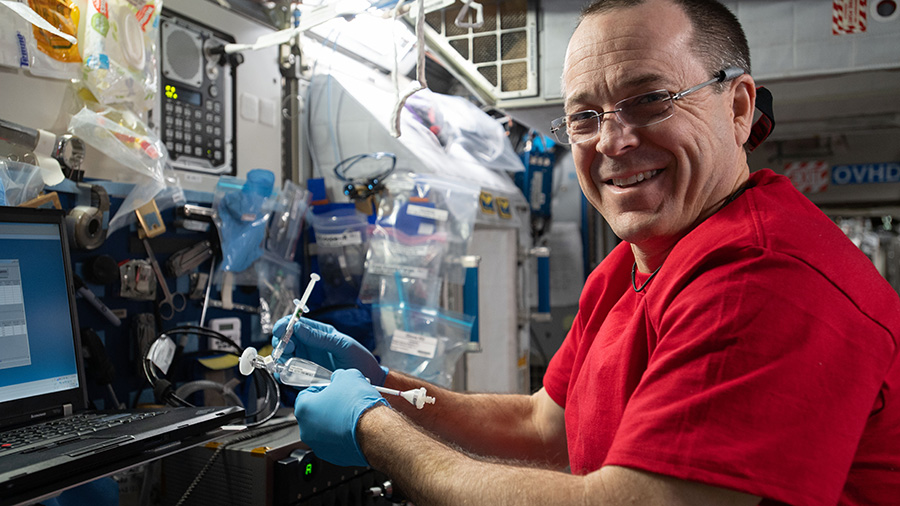 September is gearing up to be a very busy month aboard the International Space Station. The six Expedition 56 crew members are headlong in the first week of the month switching roles and juggling a wide variety of critical tasks.
Flight Engineer Ricky Arnold of NASA has been swapping roles today as space scientist and spacewalker. The educator-astronaut sequenced RNA today from microbes swabbed from inside the orbital lab's surfaces. The research is helping scientists understand how life adapts to microgravity providing insights to improve crew health.
Arnold then joined his fellow crew mates, Commander Drew Feustel of NASA and Flight Engineer Alexander Gerst of ESA, at the end of the day for a review of two spacewalks scheduled for Sept. 20 and 26. The trio reviewed robotics maneuvers and other tasks required for the external battery maintenance work on the Port 4 truss structure at the end of the month.
Feustel also trained for his role as the prime robotics controller when he captures JAXA's (Japan Aerospace Exploration Agency) HTV-7 cargo craft with the Canadarm2 robotic arm on Sept. 14. JAXA's seventh resupply ship to visit the space station is due to launch Monday at 6:32 p.m. EDT.
From inside the cupola, Feustel will command the Canadarm2 to reach out and grapple the HTV-7 as Flight Engineer Serena Auñón-Chancellor backs him up next Friday at 7:40 a.m. Gerst and Auñón-Chancellor both joined Feustel for the robotics training today during their afternoon.
---
Get weekly video highlights at: http://jscfeatures.jsc.nasa.gov/videoupdate/