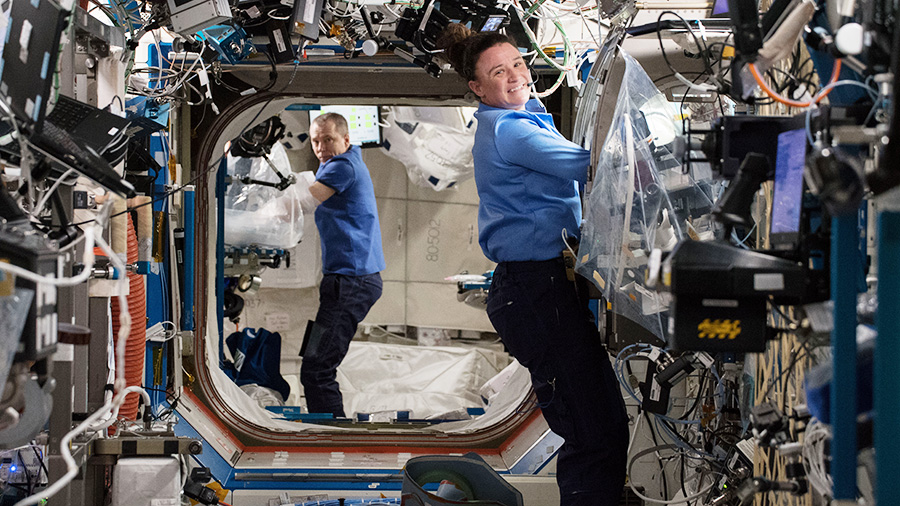 JAXA (Japan Aerospace Exploration Agency) has rescheduled the launch of its HTV-7 resupply ship to the International Space Station to Thursday, U.S. time. As a result of the new launch and arrival dates for the HTV-7, the target dates for a pair of maintenance spacewalks have been adjusted as well.
More than five tons of food, fuel, crew supplies and new science gear is due to launch Thursday at 5:21 p.m. EDT from the Tanegashima Space Center in southern Japan. The HTV-7 with the space cargo will take a 3-1/2 day ride to the orbital laboratory where it will be captured Monday with the Canadarm2 robotic arm around 6:50 a.m. It will then be installed on the station's Harmony module around three hours later. NASA TV will broadcast all the activities live.
The HTV-7 is also delivering six new lithium-ion batteries to the station which will be the focus of the upcoming spacewalk activity. Robotics controllers will remove the new batteries from the HTV-7 and install them on the Port 4 truss structure. Then astronauts Alexander Gerst and Drew Feustel will begin the final battery hookup work on the first of two spacewalks on Sept. 23. Gerst will go outside a second time with spacewalker Ricky Arnold on Sept. 29 to complete the battery hookups.
Gerst, Feustel and Arnold spent a couple of hours today reviewing their upcoming spacewalk procedures and discussing their concerns with specialists on the ground. Flight Engineer Serena Auñón-Chancellor cleaned the trio's spacesuits' cooling loops and refilled the suits' water tanks.
The entire Expedition 56 crew did manage to conduct a variety of science experiments exploring biology and physics in microgravity. The astronauts researched how mice adapt to space and swabbed their own bodies to collect microbe samples for analysis.  The crew also studied liquid atomization and the composition of meteorites entering Earth's atmosphere.