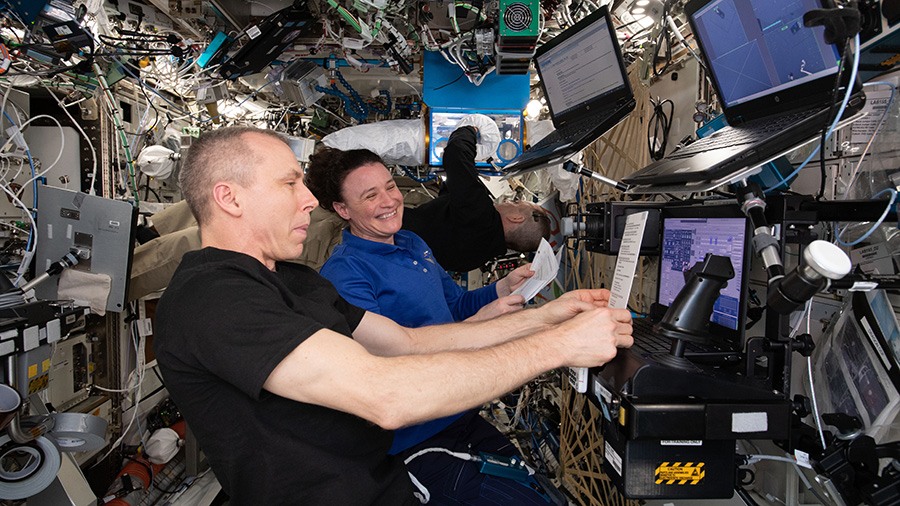 Japan is poised to launch its HTV-7 resupply ship, nicknamed the Kounotori, loaded with over five tons of cargo to the International Space Station on Friday, U.S. time. Back on Earth, a new crew is preparing for its launch from Kazakhstan next month to the orbital lab.
JAXA's (Japan Aerospace Exploration Agency) H-IIB rocket is set to blast off from the Tanegashima Space Center Friday at 4:59 p.m. EDT and send the Kounotori cargo craft on a four-day ride to the station. Commander Drew Feustel and will be in the Cupola Tuesday, with Flight Engineer Serena Auñón-Chancellor as his backup, to command the Canadarm2 robotic arm to capture the Kounotori at 7:30 a.m. The duo trained Thursday morning on a computer and practiced rendezvous procedures and robotics maneuvers.
More rodent research continued today as four astronauts teamed up to study how microgravity affects the gastroinstestinal systems of mice. In particular, scientists want to know how gut microbes react to the space environment and the impact it may have on astronaut health. Results will help doctors devise plans and treatments to keep astronauts healthy on long-term missions in outer space.
Two new Expedition 57 crew members are getting ready for their mission at the Gagarin Cosmonaut Training Center in Moscow. Alexey Ovchinin from Roscosmos and Nick Hague from NASA are in Russia for qualification exams ahead of their launch and six-hour ride aboard the Soyuz MS-10 crew ship to the station on Oct. 11.
---
Get weekly video highlights at: http://jscfeatures.jsc.nasa.gov/videoupdate/