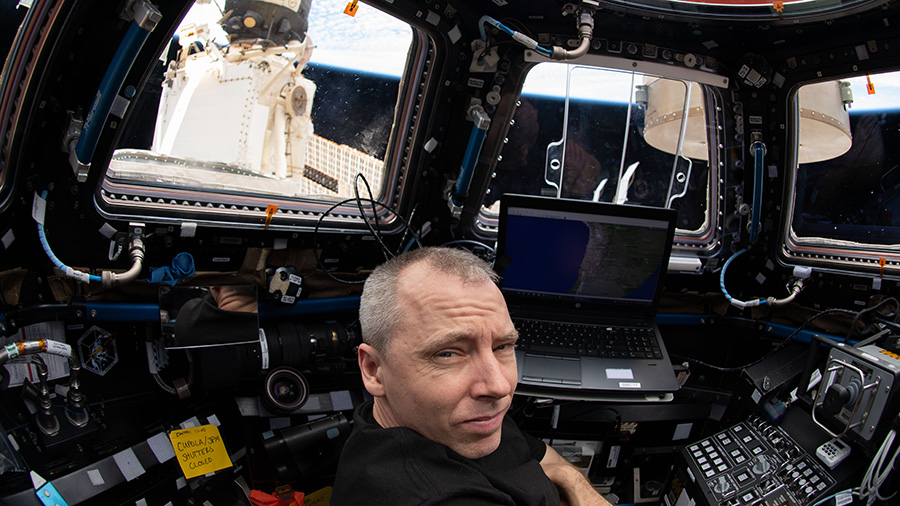 The Expedition 56 crew members started the work week exploring a variety of life science and ensuring the upkeep of advanced space research gear. U.S. spacesuits were also being looked at today ahead of a series of planned spacewalks.
All space station crew members exercise daily to maintain their health while living in space. Today, Flight Engineer Ricky Arnold strapped himself into an exercise bike and wore sensors to measure aerobic capacity, or how much physical exertion an astronaut can sustain in space. This helps doctors understand the fitness requirements necessary to successfully conduct spacewalks or respond to emergencies in the weightless environment of space.
Arnold then switched roles from subject to scientist as he extracted DNA from microbe samples swabbed from inside the International Space Station. The DNA undergoes further sample preparation and is sequenced using the Biomolecule Sequencer and Genes in Space hardware onboard the station. The research is helping scientists understand how life adapts to microgravity providing insights to improve crew health.
Commander Drew Feustel and Flight Engineer Serena Auñón-Chancellor, both from NASA, worked on a variety of science gear Monday. Auñón-Chancellor restocked the Human Research Facility-2 with medical supplies and Feustel reconfigured a rack in the Kibo laboratory module for the new Life Sciences Glovebox.
The duo then joined astronaut Alexander Gerst of ESA (European Space Agency) for spacesuit checks during the afternoon. The three astronauts verified the functionality of the suit jetpacks, ensured the correct sizing of the suits and cleaned the Quest airlock where U.S. spacewalks are staged. These suits will be used on a series of future spacewalks to upgrade batteries on the space station's truss structure.